Do Indus Valley Hair Colours Stay for Long and Work as Promised?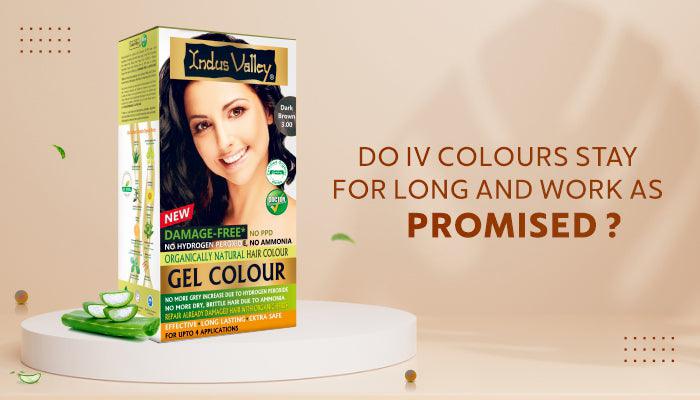 There are reasons why a headful of dark hair is referred to as the 'crowning glory' of one's personality. It can make or break your looks. So, while a good hair day can keep you feeling confident and comfortable throughout the day, a bad one could turn our world upside down. Which makes it all the more important that we should take good care of our hair by choosing the best haircare routines.
So, what all are important for a good haircare routine?
Normally, a haircare routine involves cleansing, conditioning and styling. But if you do not want to load too many unwanted chemicals onto your body, then your focus must be on using sulphate-free or soap-free shampoos, herbal conditioners and herbal styling gels. Using a hair colour is an additional option available to those suffering from greying of hair, which can otherwise make you look much older and duller.
How to cover that grey hair naturally?
To cover the greys naturally, the best way would be to opt for an organically natural hair colour. Make sure that plant materials like henna, indigo, chamomile, fenugreek, manjistha root, coffee, tea, or any other that help with hair colouring, conditioning and nutritioning are present in the hair colour. Some brands also add harmless organic compounds like cocamidopropyl betaine to their herbal concoctions to increase the effectiveness of their colours. Such kinds of combinations fall in the category of innovatively natural hair colours. They offer fantastically vibrant hair colouring results without causing any hair damages. You should switch over to such organically natural hair colours.
One such organically natural hair colour that is doing exceptionally well online is Indus Valley New Damage-Free Gel Colour. Enriched with the goodness of 8 certified organic herbs, it colours hair vibrantly in just 35 minutes, with its colours lasting for about 5 weeks. So, to answer the question that whether Indus Valley colours stay for long and work as promised, it certainly is a big YES.
Indus Valley is a leading brand in the hair colouring segment that hails from India, the land of ancient wisdom and science. The company offers a wide range of innovative hair colouring products that cater to different customer segments. Owned by hair colour scientists and doctors in the field, its hair colours are all made in India, but sold in more than 25 countries around the world, enjoying a satisfied customer base primarily in Europe, US and the Middle East.
Which is the best ammonia-free hair colour?
If you search for the top 10 non-toxic natural hair dyes for vibrant hair color, you will come across many options on the internet—primarily the reason why you must make sure to select your options very carefully. Filtering out the marcoms and hyperbolic claims would be a good way to start figuring out what's really inside. Look out for terms like "certified organic herbs" and "dermatologist/ doctor recommended" on the packaging. Companies usually cannot lie while making such claims on their packaging. And that's why Indus Valley New Damage-Free Gel Colour is one of the top 5 herbal hair colors that are worth trying right now.
Which is the safest hair color in India?
India is a land where organic farming has been diligently practised right up to the modern times. Even when the rest of the world, particularly Europe and the US, had adopted modern farming techniques with GMOs (Genetically Modified Organisms such as genetically modified seeds), chemical fertilisers, pesticides and insecticides, Indian farmers kept on following the ancient organic techniques of using animal dung and natural pesticides like neem leaves and salt sprays right up to the modern times. Being a developing economy we were slow to catch up, but certainly not to our disadvantage; primarily the reason why Indian organic herbs are still revered the world over. 
Indus Valley is one company that uses certified organic herbs and extracts, grown in select Indian farms, in their gel based hair colours. With a total of 8 essential hair nourishing herbs, it is rated by online users as one of the safest hair colours in India. You can safely opt for the company's gel based hair colours if you want to use the best hair colour brands in India that will give your hair the richest colour.
How can I darken my grey hair naturally?
If you are suffering from early greys, only then can you darken your grey hair naturally. Greys due to the normal age related factors cannot be reversed in any way. 
That being said, you must first ensure that you are not using any chemical based hair colours that may increase your greys. Indus Valley New Damage-Free Gel Colour is an organically natural hair colour that gently nutritions, conditions and hydrates hair and scalp while colouring up the greys in just 35 minutes. So, you can consider it as one of the top 10 best hair colours in India for 2022. It also comes with the goodness of hair darkening herbs such as amla, henna, wheatgerm, sunflower and oranges.
For more on safe and damage-free hair colouring, do stay connected and keep sharing your insights with us.