Figuring Out a Herbal Skincare Routine - A Comprehensive Guide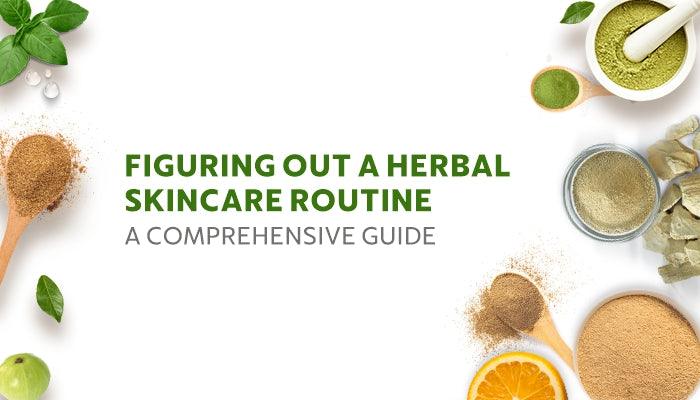 Great skin makes a great personality, we all completely agree. To maintain it, therefore, we must work on it daily, weekly. 
While there are a few basic things that we all must follow for maintaining a young, glowing skin, there are certain routines that are specific to our individual skin types only. That's why it becomes important to first identify exactly what type of skin we have for figuring out the best herbal skincare routine for ourselves.
How Can I Identify My Skin Type?
We, humans, come with four types of skin—oily, dry, combination and normal. Oily skin is marked by excess production of sebum, the natural oil of our skin. While dry skin is marked by less production of sebum. Combination skin, as the name itself suggests, is a combination of both oily and dry skin, with the oils getting secreted in excess in only the t-zone—forehead, nose and chin. But you are the luckiest if you are born with a normal skin type. Normal skin is neither too oily nor too dry. It secretes just the right amount of sebum keeping our skin comfortable most of the time.
Now Read On To Know Your Exact Skin Type in Just 30 Minutes. That too Sitting Right at Home;
Cleanse your face with a mild face wash, then pat it dry. Do not apply anything after—no toner, no moisturiser, no cream, nothing. After 30 minutes, check how your skin is feeling. If it's shiny throughout, you likely have oily skin. If it's tight, flaky and itchy, you have dry skin. If the shine is only over your t-zone, you likely have combination skin. And if your skin feels just comfortable, you have normal skin. You can also take a blotting paper and gently press it over different areas of your facial skin. Then hold it up to the light. If oil marks become visible on it, you have either oily skin or a combination skin. If not, you have dry skin. A normal skin might leave minor traces of oil marks on the paper, or none at all.
Once you have identified your skin type you can start fixing your daily and weekly herbal skincare routine.
What Herbs are Good For Oily Skin?
Oily skin not just secretes more oil, it also has large open pores. So, it requires herbs that are efficient in drawing out oils and in tightening up pores. Oily skin also suffers from frequent acne and pimple breakouts. Few herbs and natural ingredients that work best on oily skin are—peppermint oil, rose water (hydrosol), rose oil, rosemary oil, amla powder, sandalwood oil and powder, orange peel powder, lavender oil, lemon oil, lemongrass oil, multani mitti, tea tree oil, mulethi powder, aloe vera, hibiscus flower powder, green tea extract, grape seed oil, cucumber water (hydrosol), jojoba oil and argan oil.
What Herbs are Good For Dry Skin?
Dry skin suffers from itchiness, irritations and excessive tightness. It lacks lustre and glow, looks dull, and quickly develops wrinkles and fine lines. That's why it primarily requires deep non-comedogenic moisturisation and hydration. Few herbs and natural ingredients that work best on dry skin are—sunflower seed oil, coconut oil, oatmeal bath, drinking milk, cow yogurt, honey or mashobra wild honey to be more precise, aloe vera gel, rose water, green tea extract, brahmi, jojoba oil, argan oil, kaolin clay and calamine clay.
First Things First—A Few Basics For Maintaining a Young, Glowing Skin
Before embarking on creating your perfect herbal skincare routine, experts say that you must first work towards developing a few good skincare habits too, like;
Eating healthy:

Reducing the intake of oily and spicy food, increasing the intake of green, leafy vegetables and fruits.

Eating timely:

Irregular eating habits unbalance the stomach and intestines, which ultimately shows up on our skin too. So, regularise your eating habits first if you really want to maintain a healthy, glowing skin.

Catching adequate amounts of sleep:

The more relaxed your body and mind is, the more glowing and younger looking your skin will be. Avoid night-time office routines to stay healthier and younger for longer. Find out how much sleep is good enough to make you feel totally rested and refreshed the next morning. Make sure to get that much sleep every night.

Keeping the mind relaxed:

Try incorporating some light exercises, meditation and yoga into your daily morning or evening routine. This will keep your mind relaxed and your heart filled with happiness; two essentials for maintaining a glowing, supple skin.

Never overwork yourself:

When you maintain a work-life balance, you become automatically happier. Work hard during office hours, stay close to your loved ones, and spend as much time as possible with your family when at home. You will be amazed how quickly this happiness will show up on your skin too.
What should I include in my morning skincare routine?
Once you have incorporated the above mentioned good skincare habits as your daily morning routine, you can start taking the next steps forward. According to skincare experts a herbal daily skincare routine should typically include;
Cleanser

—a mild herbal face wash

Toner

—rose water or any other hydrosol like cucumber water, mint water, saffron water or lavender water

Serum

—if you need one for treating specific issues like acne, dark spots or any thing else

Moisturiser

—water based for oily skin like aloe vera, and oil based for dry skin like coconut oil, jojoba oil or argan oil

SPF

—during both summers and winters, whether sunny or cloudy
What should I include in my night-time skincare routine?
According to skincare experts the only difference between a morning routine and a nightly routine is the SPF. So, all you have to do is avoid using the SPF at night, keeping everything else the same as your morning routine. 
This also shows the differences in their purposes. While the morning routine is primarily for preventing skin damages from environmental factors like dirt, pollution and the sun's UV rays, the night-time routine aims at replenishing and pampering the skin to eliminate and repair any damages caused during the day. 
What should be my weekly skincare routine like?
You can arrive at your weekly skincare routine by just adding a few extra procedures to your nightly routine. For example; you can start exfoliating every Tuesday or Wednesday night, start applying a herbal ubtan for skin glow every Saturday or Sunday night, adding a special weekly hydration every Friday, keeping everything else the same. 
Remember to always space out your weekly applications by at least two days for best results.
Choose your herbs
Indus Valley offers a wide range of pure herbs, salts, clays and oils for optimum skincare. You can also try their scrubs, creams and SPFs which are enriched multi-herb formulations that also deeply nourish and pamper the skin. 
For gentle skin cleansing try

Indus Valley Ultra-Rich Replenishing Face Scrub

. 

Their hydrosols (waters)—rose, cucumber, saffron, mint, lavender and jasmine work very effectively as toners. 

Indus Valley Bio-Organic Skin Care Oil works both like a serum as well as a nourishing, moisturising oil.

For SPF you can try Indus Valley Light Day Cream or Bio-Organic Sun Guard Aloe Vera Gel. Both are excellent for skin protection against sun damages.

And, finally, you can try the Indus Valley DIY Beauty Kit Combos as your weekly herbal exfoliating face packs, skin glowing ubtan face masks and super-hydrating (skin pH balancing) face packs. 
----------------------------------------------------------------------------------------------------
What online users say about Indus Valley products
Loved the product !! HIGHLY RECOMMENDED
It's a great multi tasking aloe vera gel to use on skin and hair. It's really light on skin, gets absorbed super-quickly and non-sticky in texture compared to other aloe vera gels I've used before. Makes the skin soft and smooth from the very first use. Can be used as a primer under makeup :) If you don't want to go for expensive hair spas use this after hair wash as a leave-in hair serum. You can mix it in your hair and face packs too. Overall, it's a great product. Will be repurchasing it for sure!!
— Neha, Verified Amazon Purchaser
---------------------------------------------------------------------------------------------------------
All I want to say is that yes cucumber is damn good for skin and this unique cucumber toner of Indus Valley cut off my efforts of making the cucumber facial recipes. I am using it for a month every time after coming from outside. I have no blackheads and also added it to my skin recipes and can see a major difference in my skin tone, the patches are more lightened and also the complexion is better. I would like to recommend it for people who are facing skin concerns.
    —Shree Ram, Verified Amazon Purchaser
------------------------------------------------------------------------------------------------------
We are glad to assist
In case you have more queries please feel free to leave your comments below and our beauty and health expert will get in touch with you. Till then, stay beautiful, stay natural!