How to Use Hibiscus Flower Powder as a Beauty & Skincare Product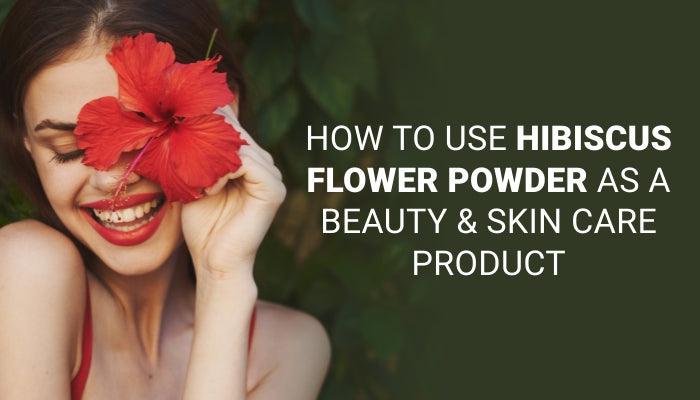 The hibiscus is a genus of flowering plants in the mallow family, malvaceae. It is quite popular and there are many varieties of hibiscuses found around the world.
Hibiscus flower powder is an organic beauty product that can be used for skincare, hair care, and makeup. It is a natural product made up of dried and crushed hibiscus flower petals, used since centuries in the Middle East, Africa and Asia as a herbal beauty product.
The Most Popular Usages of Bio-Organic Hibiscus Flower Powder
Hibiscus flower powder is a popular ingredient for making many natural DIY face packs and hair masks. Being high in antibacterial and anti-inflammatory properties it makes for a perfect ingredient in many creams and lotions. The flower powder has been used for centuries in the Middle East and Asia to heal wounds and treat skin disorders like eczema.
The Different Types of Hibiscuses and Their Uses
Red Hibiscus: The red hibiscus is most widely used for medicinal purposes and beauty care. It is most widely used for making beauty face packs and hair masks. It can also be used for making hibiscus tea. Red hibiscus tea helps reduce gall bladder stones.
White Hibiscus: The white hibiscus can also be used to make tea, which has been proven to have antioxidant properties that fight cancer cells and reduce high blood pressure.
Yellow Hibiscus: Also known as the Queen of Flowers, it is often prescribed by naturalists and Ayurvedic doctors to people who need quick boosts of energy and positivity.
Benefits of Using Bio-Organic Hibiscus Flower Powder
Bio-organic hibiscus flower powder has high vitamin C content, which is also a powerful antioxidant. Vitamin C has multiple healing effects both for the skin and hair. Regular application of bio-organic hibiscus flower powder may;
Help improve skin elasticity
Work like a great natural remedy for acne-prone and oily skin
Help exfoliate the dead skin cells and unclog skin pores
Delay skin ageing; wrinkles and fine lines
Enhance the natural glow of the skin
In hair masks; help arrest premature greying
Also help reduce skin inflammation and redness
Hibiscus powder online for skin whitening
Bio-organic hibiscus flower powder is often used by people who suffer from hyperpigmentation. Hibiscus powder has been in use for centuries in different parts of the world for skin whitening due to its high vitamin C content. It is considered as one of the most favorite natural remedies for this purpose.
Hibiscus powder for premature grey arrest
The high vitamin C content in hibiscus powder also helps arrest premature greying of hair. It can be mixed with natural hair colouring herbs like henna or indigo, and with hair care herbs like brahmi and bhringraj to make hair masks for dyeing and conditioning hair. Bio-organic hibiscus powder has been found to be a cheaper and more effective alternative to hair dyes. You can use it also to give your hair that extra shine and volume you always wanted.
What are the Top 3 Skin Conditions that Hibiscus Flower Powder Can Help Heal or Regenerate?
Hibiscus flower powder is a natural ingredient that can help with the following skin conditions:2>
Acne: Hibiscus flower powder contains high levels of vitamin C, which is an essential nutrient for the production of collagen. Collagen is an important protein that helps to keep the skin cells healthy and strong.
Eczema: Hibiscus flower powder contains vitamin A, which can be used to treat eczema. It also has high antioxidant content which is helpful in reducing inflammation caused by eczema.
Dry Skin: Hibiscus flower powder contains plenty of vitamins and minerals that are good for the skin. It also has anti-inflammatory properties that can reduce dryness of the skin.
3 Health Benefits of Hibiscus Flower Powder worth Looking Out For
Hibiscus tea is a refreshing drink that can be taken anytime during the day. The most popular health benefits of hibiscus tea are weight loss and diuretic effects.
Weight Loss Benefits of Hibiscus Tea: Hibiscus tea is a natural diuretic, meaning it helps to flush out excess water from the body. It also has an appetite suppressing effect which can help with weight loss when combined with healthy diet and exercise.
Diuretic Effects of Hibiscus Tea: Hibiscuses tea has been used in traditional medicine for centuries as a natural diuretic to help rid the body of excess water and toxins that may be causing bloating or discomfort.
For Preventing Gall Bladder Stones: Sweeten up your mornings with hibiscus tea and also prevent gall bladder stones from occurring. Just add a teaspoon of bio-organic hibiscus flower powder with a pinch of lemon juice to make an energizing drink. You may add sugar as per your preference.
Experience the benefits of bio-organic hibiscus flower powder with a brilliant time-tested DIY hair conditioning mask by clicking here. Regular application of this mask will help arrest your premature greys, while adding visible shine and bounce to your tresses.
To make your own skin cleansing face pack, please click here. Use this face pack regularly for getting a soft, supple, glowing skin.
Do share your insights and relevant experiences with us through your comments below. You may also use the space to address your personal queries to our online beauty and health experts. Till then, wishing that you stay beautiful inside out!