Decoding Beauty Rituals: From Face Scrubs to Henna Haircare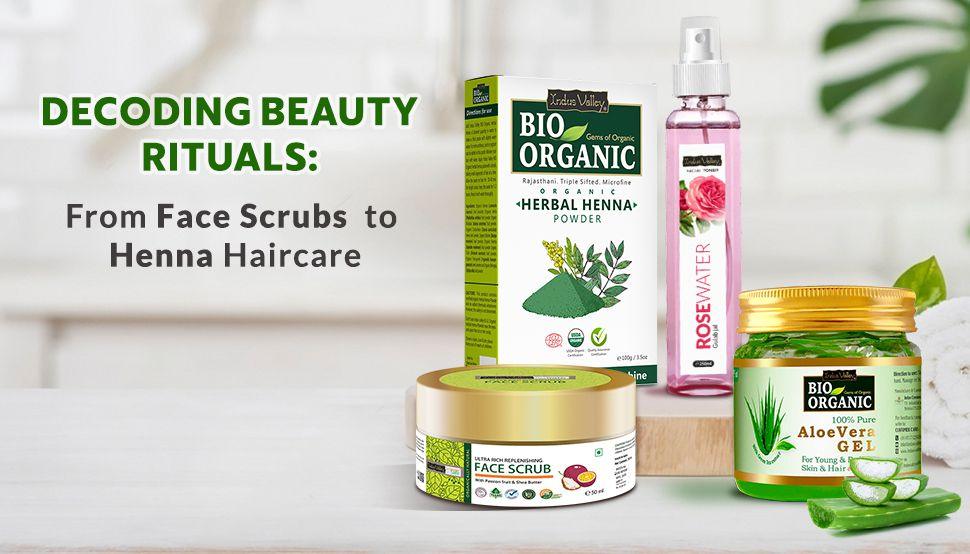 In our pursuit of radiant skin and luscious hair, we often turn to various beauty rituals and products that promise transformative results. From face scrubs to henna haircare, these practices have been passed down through generations and are deeply rooted in traditional beauty wisdom. But it is important to differentiate between the facts and myths right? We will let you understand the true benefits of these rituals.
In this blog, we will delve into the world of beauty rituals and explore the science behind each practice. Get ready to uncover the secrets behind face scrubs, sandalwood packs, gel colour, aloe vera gel, multani mitti, depigmentation gel, rose toner, light day cream, and herbal henna. Let's embark on this journey to discover the true power of these beauty rituals.
Can I Scrub My Face Every Day?
Well, the answer is a big NO! Although exfoliation is an essential and a must step in any skincare routine. However, the frequency of face scrubbing should be approached with caution. While exfoliating can help remove dead skin cells and unclog pores, overdoing it can lead to skin irritation, dryness, and damage. But you can save your skin by using Indus Valley Face Scrub as it contains shea butter that helps your skin to retain moisture and won't let your skin get dry.
Is Sandalwood Pack Good for Your Face?
Absolutely yes! Sandalwood has long been revered for its amazing skincare benefits. From its soothing properties to its ability to enhance complexion, sandalwood packs have been a popular beauty ritual in many cultures. If you have blemishes, wrinkles, and signs of aging you must try out Bio-Organic Sandalwood Face Pack, it will help you deal with multiple skin problems effortlessly.
Does Gel Colour Last Longer?
Gel colour has been one of the best natural hair colour with no added harsh chemicals like hydrogen peroxide and ammonia that leads to hair damage. Gel colour for hair gives perfect grey hair coverage without causing any hair damage. The safest colour that comes with the goodness of natural ingredients to provide the best results. It lasts upto 4-5 weeks.
What Are the Benefits of Aloe Vera Gel?
Aloe vera gel has a lot of skincare and hair care benefits. Its natural healing properties and soothing effects have made it a staple in many beauty products. Bio-Organic Aloe Vera gel helps to hydrate your skin all day long specially in the summer season.  It also balances the oil production in the skin which helps to deal with acne as well.
Is Multani Mitti Good for All Skin Types?
Multani mitti, also known as Fuller's Earth, has been used for centuries as a skincare remedy. But is it suitable for all skin types? Although it works on all skin types, it is specially recommended for people having oily skin. Bio-organic Multani mitti Powder helps to deal with fine lines & wrinkles and also tightens the skin pores. You can make a DIY using Multani mitti, aloe vera gel & rose water to get a youthful look. Use thrice a week for good results
What Are the Benefits of Depigmentation Gel on the Face?
Indus Valley Depigmentation gels have gained popularity in the realm of skincare, particularly for addressing issues such as hyperpigmentation and uneven skin tone. Made with powerful ingredients like cow yogurt & honey, which are natural mild bleaching agents that help to lighten skin tone. It deals naturally with pigmentation and uneven skin tone.
Is Rose Toner Good for Dry Skin?
Never skip rose water from your skincare routine!
The key to youthful, glowing skin is moisture, and Indus Valley Rose Water is a natural hydrator that moisturizes your skin instantly. Your skin will feel revitalized and energized after using it. Your skin will look firm and plump thanks to the toning properties of rose water.
What is the Benefit of Light Day Cream?
Light day cream is a staple in many skincare routines, especially for those seeking a balance between hydration and a lightweight feel. Indus Valley Light Day Cream protects your skin from harmful UV rays with SPF25 and provides all-day-long shield protection from pollution, dirt, and other impurities.
Is Herbal Henna Good for Hair?
Herbal henna has been used for centuries as a natural hair dye and haircare treatment. Bio-Organic Herbal Henna not just perfectly covers greys hair but also nourishes and conditions hair to provide natural shiny hair.
Conclusion:
Beauty rituals have stood the test of time, offering us a glimpse into the wisdom of traditional practices. By understanding the science behind these rituals, we can make informed choices about our skincare and haircare routines. From the benefits of exfoliation and sandalwood packs to the secrets of gel colour and aloe vera gel, we have explored a diverse range of beauty topics. Armed with this knowledge, you can embrace these rituals with confidence, knowing their true benefits and how to incorporate them into your personal beauty regimen. Remember, beauty is an ongoing journey, and with the right information, you can unlock the potential of these timeless practices for a healthier, more radiant you.