Do You Know the Amazing Skin Benefits of Sandalwood Powder?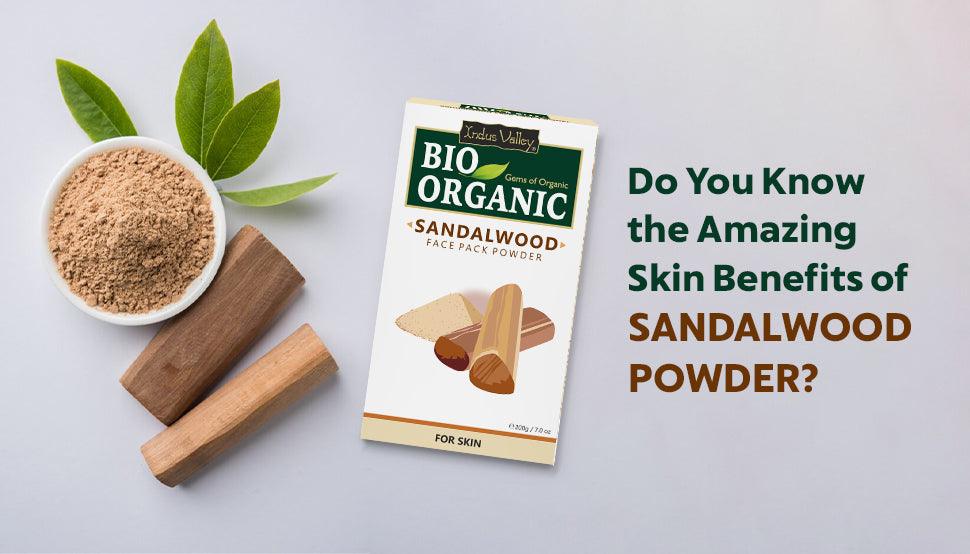 Did you, at any time, regret not attending a Saturday night party or a wedding of your close relative just because some pimples had popped up on your face?
When your friendly phone conversations become more about your acne scars and treatments for pimples, know that it's high time you started using organic sandalwood powder for your face.
When you encounter a skin-related issue, sandalwood can work like your best friend. With distinctive properties, like cold potency, dry and light nature, and more, organic sandalwood powder effectively tackles excess and uneven pigmentation, sunburn, acne, and lackluster skin. While its aroma deeply calms the senses.
In India, sandalwood paste has also been very commonly used for religious rituals. But why is something so essential for rituals also very effective on the skin? Well! Let's discuss all of these essential queries about sandalwood powder in greater detail.
What is the Significance of Sandalwood?
Sandalwood is also known as 'Chandan' in India. It is valued for its religious and cultural importance. The significance of this precious wood is elaborately described in ancient Indian written texts and also in Indian folklore. Any occasion in India always comes with special indulgence with sandalwood powder.
Sandalwood is an expensive wood; in fact, it is one of the most expensive woods in the world. Its heartwood or the innermost part costs the most because the real aroma of sandalwood lies in this part. Sandalwood is also one of the most exquisite materials that can be used for wood carving and sculpting. Pure sandalwood powder and sandalwood essential oil are two very commonly used ingredients in the cosmetic and perfume industry. Sandalwood is grown across Asia, Oceania, Indomalaya, and Australasia.
What Does Sandalwood Powder Do For the Skin?
Whether you are suffering from acne, dull skin, or irritation, organic sandalwood powder for the face always comes up as a great rescue. It fights skin scars, heals rashes, delays wrinkles and fine lines, and effectively reduces suntan and dryness. Regular use of sandalwood face pack powder can make your skin flawless and glowing.
1. Is Sandalwood Powder Good for Acne and Pimples?
A harsh atmosphere or pollution always affects the skin, causing pimples and acne. Because of its anti-inflammatory, antifungal, and antibacterial properties, applying sandalwood paste on acne or pimples provides a soothing effect, fights bacteria, and effectively clears up the skin. It also helps regulate excess sebum production, which causes blockage of pores ultimately leading to acne and pimples.
Pro-Tip: Make your own DIY sandalwood anti-acne face pack as mentioned below:
Take pure sandalwood powder, turmeric, a pinch of camphor, and milk to make a paste.
Apply this paste to your acne and leave it overnight.
Wash it off with plain cold water the following day and pat dry.
Use twice a week for the best results.
2. Is Sandalwood Anti-Aging?
The astringent properties of organic sandalwood powder facilitate the coagulation of skin proteins that help protect the skin from allergies, irritations, and breakouts. It assists in the contraction of the soft skin tissues helping with pore tightening. Organic sandalwood powder comes rich in antioxidants that help fight free-radical damage, thus preventing fine lines and wrinkles.
Pro Tip: Make your own DIY sandalwood anti-aging face pack as mentioned below:
Take 1 teaspoon of sandalwood powder and milk.
Mix well and make a lump-free paste.
Apply the paste to your face.
Let it rest for 10-15 minutes.
Wash with cold water and pat dry.
3. Does Sandalwood Remove Tan?
Excessive exposure to the sun not only gives you a tan but may also damage your skin tissues. Chandan face pack has anti-tanning properties too that help with lightening up a tan while clearing up the skin giving you a flawless complexion.
Pro Tip: Make your own DIY sandalwood anti-tan face pack as mentioned below:
Take 1 tablespoon of sandalwood powder with a few drops of rose water and some yogurt.
Mix them all to make a smooth paste.
Apply on your tanned skin.
Let it dry.
Wash it off with cold water and pat dry.
4. Does Sandalwood Remove Pigmentation?
The antimicrobial properties of pure sandalwood powder effectively fight against bacteria, remove dirt and reduce the effects of pollution. The presence of cicatrizant, in pure sandalwood powder, helps form new skin tissues. Thus, it helps to reduce the appearance of marks, blemishes, bruises, or acne scars. It also lightens up the skin tone leaving you with flawless glowing skin.
Pro Tip: Make your own DIY sandalwood fairness face pack as mentioned below:
Take 2 tablespoons of sandalwood powder.
Enough Rose water to make a mud-like smooth paste.
Apply it on your skin and let it air dry for 15 to 20 minutes.
Wash it off with cold water and pat dry.
Is There Any Sandalwood Face Pack Powder Available Online?
Indus Valley Bio-Organic Sandalwood Face Pack Powder is a 100% pure and organic herb powder, with no added chemicals or fragrances whatsoever. Derived from the genus Santalum, it helps protect the skin and enhances the skin's natural glow. The face pack also comes with the added goodness of Multani mitti, calamine clay, and almond powder, which together help to relax the skin, reduce wrinkles, soothe acne and pimples, provide hydration, and fade away blemishes.
More Love for Indus Valley Bio-Organic Sandalwood Face Pack Powder - User Reviews
I LOVE IT
I am in love with this product, it made my face clean and glowing and it reduced my dark spots to the end.
Review by Saroj - Posted on 11/9/20
GOOD FOR GETTING GLOWING SKIN
I found this sandalwood powder pure and genuine. It moisturises and makes my skin glow and smoother. I have been using this face pack on a regular basis and I found that this face pack removes the tanning of the skin. Overall, good product.
Review by Teena - Posted on 5/15/20