5 Reasons To Choose Intense Hydrating Under Eye Cream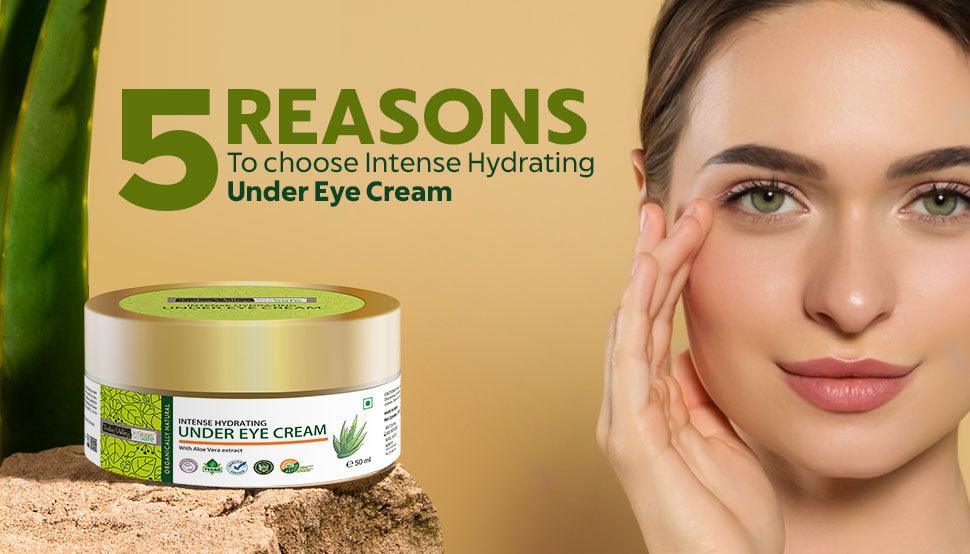 The skin around our eyes is more fragile and thinner than the rest of our faces. So, it's best to be extra careful with it. The eye area remains in constant motion and endures a lot of strain every day. And due to the lack of pores, it also does not have much natural moisture from sebum either. This sensitive area, thus, requires special maintenance with the best under-eye cream to keep it looking its best.
Indus Valley Intense Hydrating Under Eye Cream is specially formulated to tend to the skin around the eyes and deliver moisture. The cream helps treat dark circles, wrinkles, and puffiness while keeping the area nourished and supple. It also softens fine lines and makes the skin under your eyes look youthful.
While searching through the internet to find a solution to my stubborn dark circles, I came across this Intense Hydrating Under Eye Cream. At first, I was expecting a usual result like other under-eye creams. But this product surprises me. Gradually, my dark circles are fading away.
Sneha Raj, PHD Student.
1. Reduces the Appearance of Dark Circles:
The best under-eye cream will come packed with antioxidants that can refresh and renew the skin under your eyes, cover up your dark circles that make your face look dull and old, and also lighten your skin giving you a brightening boost.
2. De-Puffs your Under Eyes:
If you wake up with puffed under-eye bags, then Indus Valley Intense Hydrating Under Eye Cream is the go-to cream for you. The cream helps in reducing visible signs of fatigue and rejuvenates those tired-looking eyes. Puffiness under the eyes comes from fluid build-up caused by lack of sleep, allergies, aging, and unhealthy lifestyle habits. This under-eye cream contains many oil extracts, which smoothen out the area and reduce puffiness.
3. Moisturizes Your Under Eyes:
The skin under your eyes is extra sensitive and thin and needs a specific kind of hydration, which this best under-eye cream provides. Using Indus Valley Intense
Hydrating Under Eye Cream will moisturize your skin and keep your eyes fresh all the time. It also prevents the skin from sagging.
4. Reduces Wrinkles and Makes your Skin Youthful:
Premature aging is one of the most common skin issues most of us face today. Aging signs like wrinkles and fine lines take out the spark from your face and make your skin appear old. Regularly applying intense hydrating under-eye cream can help in reducing the appearance of wrinkles and fine lines. Another sign of aging is Crow's Feet, which make our skin look dull. It can be prevented by using an under-eye cream. Rich in antioxidants and moisture, the best under-eye cream can effectively boost your looks, thus making your skin look youthful and glowing.
5. Nourishes the Skin with Goodness of Natural Active Ingredients:
Almond Oil: An abundant supply of antioxidants, anti-inflammatory properties, retinol, and vitamins E and K, almond oil helps in reducing under-eye puffiness and lightens dark circles. It also helps contract dilated blood vessels under the eye, thus providing hydration and effectively making your appearance youthful.
Rose Water: With effective anti-septic, anti-inflammatory, and anti-bacterial properties, it can rejuvenate tired eyes and reduce dark circles, provide comfort to irritated skin, and hydrate the under-eye skin.
Wheat Germ Oil: Rich in essential nutrients like vitamins, antioxidants, and fatty acids, it can efficiently boost your eye health and help nourish the delicate skin around the eyes.
Sesame Oil: A great source of various nutrients such as antioxidants, omega-6 fatty acids, vitamins, and fiber, sesame oil works like a stimulant and nourishes the under eyes. Regularly massaging with this oil can improve blood circulation around the eyes, thus helping in reducing dark circles and wrinkles. 
Grape Seed: The antioxidants present in grape seed protect the skin from cell damage, reduce puffiness under the eyes and lighten dark circles. It also helps moisturize the skin around the eyes and keeps it hydrated.
Aloe Vera: Rich in vitamins, minerals, enzymes, and amino acids, aloe vera helps repair skin damage, soothes irritated skin, provides overall protection from sun damage, reduces puffiness and swelling around the eyes, and also nourishes the skin.
Aniseed Oil: Contains lots of vitamins, minerals, fatty acids, dietary fiber, and other components that help hydrate the delicate skin around the eyes, soothe irritation, improve eye health and rejuvenate the appearance of the skin around the eyes by effectively reducing wrinkles and blemishes.
User reviews also indicate that Indus Valley Intense Hydrating Under Eye Cream is one of the best under-eye creams currently available online. Many have seen visible results after using it regularly.
In case you have your own insights to add to this conversation, please leave us your comments below. We love to hear from our lovely readers.