Goodbye Sunspots: Orange Peel Powder For Effective Detanning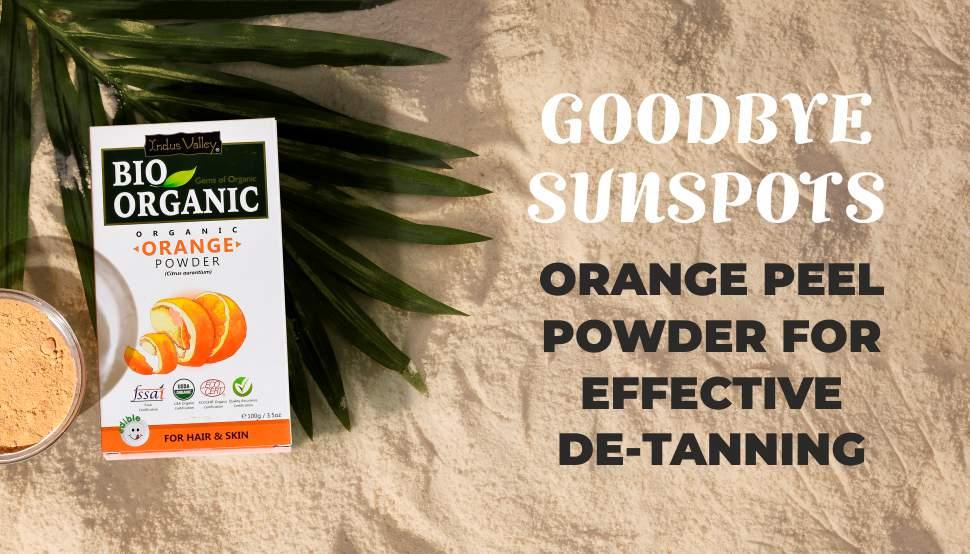 We can find the earliest mention of oranges in Chinese Literature around 314 BC, considered to be native to the tropical regions of Asia. Later, it spread across rest of the world. This citrus fruit is rich in vitamin C and one of the most beneficial fruits worldwide. Although both the flesh and the peel of this fruit are equally beneficial for medicinal as well as for beauty care purposes, bio-organic orange peel powder holds a special place when it comes to daily skincare and hair care regimen.
1. Highly Enriched With Vitamin C and Other Nutrients, It Dramatically Improves Your Skin Health:
Orange peel powder contains a very high amount of vitamin C. It is also extremely rich in minerals, calcium and other essential nutrients than the flesh of the orange itself. Vitamin C proactively assists in the production of collagen and elastin that makes your skin appear more soft and youthful. Being high in citric acid, it works as  natural bleach and helps lighten the skin tone. As an effective exfoliating agent, this bio-organic product gently cleans the clogged pores, removes dirt and excess oils from the skin. Magnesium in bio-organic orange peel powder works as an aid to glowing, youthful and healthy skin. The peel also works as a great toner. Regular use of this miracle ingredient in face packs and masks can fast decrease blackheads, improve skin health, balance oily skin and make it look bright, smooth and firm.
2. Quickest Relief From Acne, Spots and Blemishes:
We all suffer from pigmentation, dark spots, acne scars at some point in time. Bio-organic orange peel powder contains high amount of citric acid and enough calcium to boost the regeneration of skin cells,thereby reducing dark spots and blemishes. The peel is known for its antibacterial and antifungal properties, which help regulate the skin's natural oil sebum and removes its excess accumulation. This effectively reduces acne and pimples. The anti-inflammatory properties of this bio-organic product also gives protection from sun damage. An effective, natural cleanser,simply rubbing the powder on your face would work as an excellent scrub. Also, its calcium content helps in ridding you off your dead skin cells. A potent anti-inflammatory and an antioxidant, it reduces wrinkles and shrink the pores, thereby effectively reversing the skin's ageing process to give you a younger-looking skin. It's high potassium content helps in moist
urising and hydrating the skin.
3. A Complete Hair Treatment:
Bio-organic orange peel powder is equally beneficial for hair. Regular application of this bio-organic product on your scalp can make your hair ultra-soft and lustrous. Vitamin C stimulates blood circulation in the scalp which helps in promoting hair growth, brings rough, frizzy hair under control and enhances the natural texture and shine of hair. Bio-organic orange peel powder is also very much capable of controlling dandruff, removes dirt and excess sebum. It powerfully doubles up as a potent conditioner, giving your hair shiny, vibrant and tangle-free. This single bio-organic product works like a complete hair treatment.
The other benefits of bio-organic orange peel powder include the application of its delicate fruity scent for creating refreshing baths for rejuvenating the body. User reviews indicate that the 100% bio-organic product from the house of Indus Valley does not contain any added artificial fragrances or preservatives. Carefully dried and powdered into a triple-sifted, microfine powder it is also very easy to use as it does not forms into those unwanted lumps while mixing with water or essential oils. Certified organic by ECOCERT, USDA Organic & other global bodies it is also entirely safe for topical usage.
Do not forget to add your comments below for making this discussion more wholesome and more enriching for the readers.