Why You Must Switch To A Herbal Shampoo This Summer?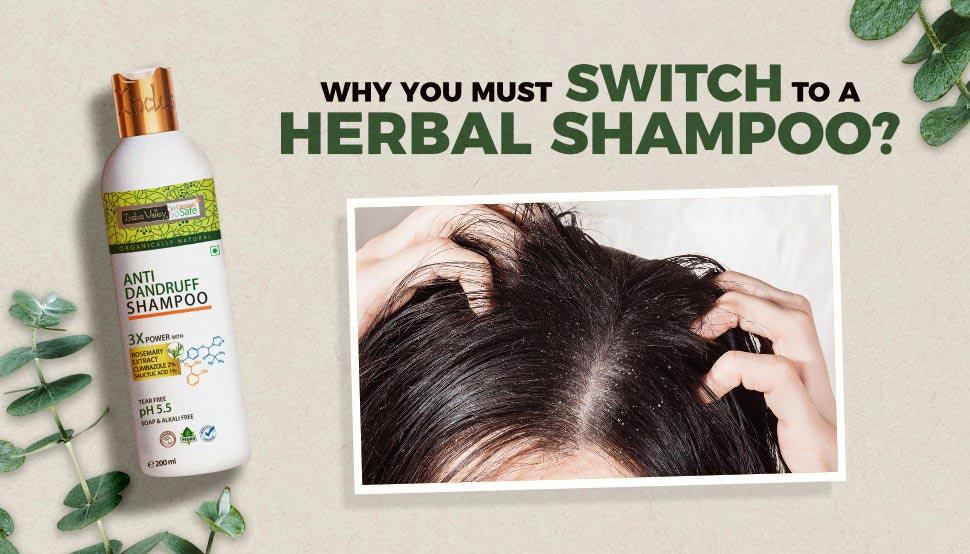 With the arrival of summer, concerns for hair damage begin as the humid weather puts so much moisture in the hair making them look dull and frizzy. While synthetic shampoos look like ideal solutions to get glossy, bouncy hair with a single wash, the harmful ingredients present in them are seldom talked about. These harmful ingredients result in further aggravating the severely damaging effects of the winters itself.
To reverse the damages done by synthetic shampoos, and to nullify the effects of the cold weather conditions, the best shampoo for hair must be opted for. Herbal shampoos come as a natural upgrade in this case as they naturally condition and moisturise your hair from deep within while strengthening them from their roots. But first, let's understand why herbal shampoo is a must during winters.
Why Go Herbal in the First Place?
Synthetic shampoos always advertise themselves on their gloss and bounce factor, which is almost always obtained through their active Silicon content. The artificial gloss and bounce so imparted only lasts for as long as these ingredients are good for. On prolonged usage, Silicon damages your hair by weakening your hair follicles. While the other harmful chemicals present—Ammonia and Sulphate, suck out all moisture from hair cuticles causing skin irritations and scalp itchiness. Herbal shampoos, on the other hand, are made with natural extracts of hair care herbs, roots, seeds and flowers. These add natural shine to your dull and damaged hair by nourishing your hair follicles and your scalp from deep within.
Some Benefits of Herbal Shampoos:
Derived from the essential hair care and skin care herbs like Bhringraj, Amla, Shikakai, etc., their antioxidants and nutrients nourish the scalp and strengthen weak hair.
Adds a natural shine to your dull and damaged hair and conditions them from roots to treat split ends and hair damage.
By fighting with microbial infections and replenishing dead skin cells, the antioxidant properties of herbal shampoos effectively reduce dandruff and premature greying. Dandruff is the most common problem we all suffer during the winters, and a herbal shampoo turns out to be the
best anti dandruff shampoo for hair to fight such common issues.
The rich nutrients present in herbal shampoos are widely acclaimed for new hair growth as well as for reducing hair fall. Due to the change in climate, we all witness hair fall. A herbal shampoo turns out to be the best shampoo for hair fall treatment.
Herbal shampoo also regulates excess oil production on the scalp and is thus extremely beneficial for oily hair.
Regular usage of the best herbal shampoo effectively promotes new hair growth and adds natural shine and volume to them.
Which is the Best Herbal Shampoo For Your Hair and How to Choose It?
The major hair problems we face in winters are dandruff, hair fall and dryness. While there are many herbal shampoos available in the market, Indus Valley Organic Anti-Dandruff Shampoo has been widely acclaimed by its users as being one of the best shampoos for hair in this category. Enriched with essential natural ingredients like Aloe Vera, Soy Protein, Rosemary Oil and Purified Spring Water, the herbal concoction stabilises the pH balance of the scalp thus preventing dandruff and scalp itchiness. It also conditions the hair follicles to retain their moisture content thereby effectively preventing dryness and hair fall. Free from harsh chemicals, the shampoo is suitable for all hair types, and thus, highly recommended by skin-care experts for healthy and revitalized hair.
To choose the best hair shampoo for your hair, first, identify the ingredients that have been added to your shampoo, and then check its online reviews. The best herbal shampoo for hair will be completely free from chemicals and must also keep your scalp moisturised and supple. We sincerely hope that this article will go far in helping you choose the best shampoo for your hair this winter and help you to enjoy healthy and damage-free hair.