Stay Safe in the Sun with Sunguard Aloe Vera Gel!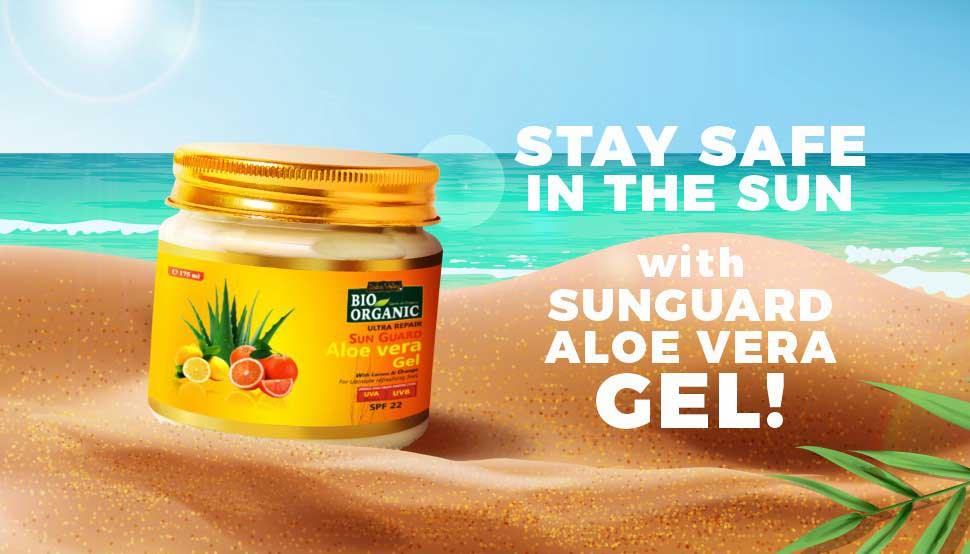 Do you know that the risk of skin damage from harmful radiations of the sun is not just limited to the summers when the sun is above our heads? The sun's harmful rays can easily pass through the clouds and affect our skin as harshly during the winters too. The best aloe vera gel for skin with SPF can, therefore, work wonders in keeping our skin healthy and beautiful, in all seasons.
If you have a skin that's particularly sensitive against the sun's UVA and UVB rays, then applying a good sun protection Aloe Vera gel becomes your best option to stay protected throughout the year. Besides being enriched with the goodness of Aloe Vera, they also carry a high SPF (Sun Protection Factor) to keep your skin healthy and protected not just during the summer months.
The Top 5 Benefits of Sun Guard Aloe Vera Gel for Skin :
Works Like a Bulletproof Vest Against the UV Photons: The current condition of the ozone layer has increased the risk of skin damage from the harmful UVA and UVB rays of the sun. Sun protection aloe vera gel with SPF 22 contains molecules that absorb inorganic pigments and reduces the chances of having sunburns or any skin damage generated through UV photons. It also protects your skin from dirt and pollution and removes the dead skin cells. Just one ounce, whenever you move out, will make your skin strong enough to fight all such unwanted damages.
Lowers the Risk of Skin Cancer: Skin cancer is known to be one of the most common types of cancer. Its process gets speeded up by the sun's UVA and UVB rays. Applying a good sun guard aloe vera gel for skin can effectively cut down your risks of getting skin cancers, squamous cell carcinoma and melanoma by about 40%.
Controls Premature Aging: Skin damage caused by the sun leads to photoaging of the skin. This process creates discoloration and breakdown of collagen which is the major cause of fine lines, wrinkles and sagging skin. If your age is below 50, then daily application of sun protection aloe vera gel can reduce 24% chance of developing early signs of aging.
Remedy For Other Skin Problems: The best Aloe Vera gel for skin comes enriched with powerful antioxidants. It also has potent antibacterial properties. Together they repair minor cell injuries, acne and eczema keeping your skin soft and glowing. Also, it keeps your skin hydrated and maintains the skin's elasticity from 12 to 14 hours a day.
Helps in Maintaining an Even Skin Tone: Sun damage is one of the main causes of having an uneven skin tone. Daily usage of a sun guard Aloe Vera gel for skin can prevent discoloration and dark spots, maintaining an even skin tone. Also, being organic and natural it suits all skin types.
User reviews indicate that Indus Valley Bio Organic Sun Guard Aloe Vera Gel for skin is a great sunscreen that suits all skin types.
Here is How You Can Apply this Sun Protection Aloe Vera Gel for Best Results:
Take 1-2 ounces of the sunscreen and gently massage it over your skin that you think would be exposed to the sun.
Re-apply it after every 90 minutes as it tends to wash away with sweat.
Daily application is a must.
Remember to apply it before you put on your makeup.
Cover your head and body before moving out.
Wash your hands and face immediately after you get back home to get rid of the dust and pollutants accumulated over your skin.
The sunscreen is 100% organic and also helps cure skin burns, dry skin and acne. To know more about this product, write to us in the comments section given below.