Quickest Hairfall Remedy For Hairfall Control - Onion Oil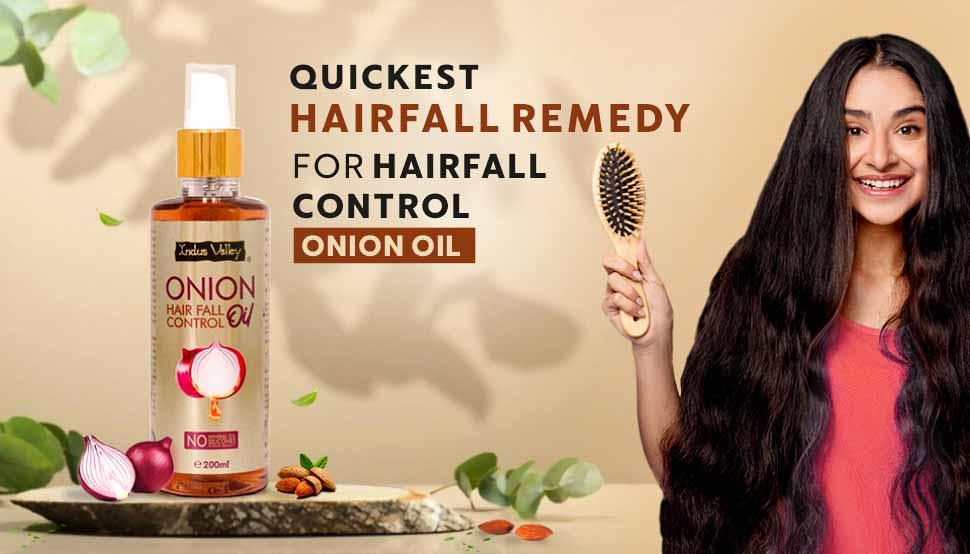 Nowadays hairfall has become one of the most concerning common issues. And there is no particular reason but a lot of reasons are responsible for everyday hairfall problem. Changes in lifestyle, unhealthy eating habits, stress, pollution or any kind of medical condition affects hairfall. On an average, we are losing 80 to 100 strands everyday. Other major reasons like dandruff, itchy scalp, head lice, folliculitis are also responsible for hair loss and thinning. Due to these reasons  hair roots have become too weak and malnourished to resist them. One of the most reliable solutions to this problem is Onion hair fall control oil.
Since ancient times, onion oil has been used to effectively speed up hair development and stop hair loss. Regular use of this food, which is high in the nutrients necessary for healthy hair, such as vitamins C, B6, B9, sulphur, potassium, and magnesium, acts as the ideal hair tonic for growing out thick, lustrous, and healthy hair.
Top 6 Benefits of using onion oil for hair:
The ultimate hair growth solution: The antioxidant content of onion hair fall control oil is sufficient to promote the activity of some specific enzymes and to optimize the hair regrowth cycle. When used frequently, it can also stop hair loss. If you already have bald spots, using this oil may be a low-cost and efficient way to fill them in more rapidly and organically.
Prevents hair breakage: Sulfur-rich onion oil reduces excessive hair loss. Your hair and the sulphur in the oil establish a link, assisting in the thickening and strengthening of your hair. On a regular basis, other problems including split ends, dehydration, and hair thinning also soon subside.
Powerfully nourishes hair and scalp: Sulfur, potassium, and magnesium are present to ensure that the quality of hair follicles improves swiftly. They also maintain healthy nourishment for the scalp and hair. When your scalp begins to receive the correct nutrition, the blood circulation also improves, resulting in hair that is thicker and stronger.
No premature grey hair: Since onion oil for hair activates the enzymes that protect against free radical damage, premature greying of hair is actively delayed. You also get a healthy, balanced, and well-nourished scalp to support the growth of healthy, naturally coloured hair because it uses an all-natural formulation that actually aids in controlling the pH levels of the scalp.
Keeps bacterial infections at bay: The antibacterial properties of onion juice, which is high in sulphur, potassium, and magnesium, make it an excellent therapy for hair and scalp. So, regular application of onion hair fall control oil aids in preventing all bacterial and fungal diseases from reaching the scalp and hair roots. Itching, redness, and dandruff are all actively avoided.
A natural conditioner: Because it is healthy and organic, onion oil also functions as a natural conditioner. It doesn't react with other chemicals, and because of its conditioning capabilities, it keeps your hair from drying out and frizzing. By using the oil first, you can prevent your scalp from losing its natural moisture content.
How to apply onion oil for hair for best results?
According to the length of your hair, place a few drops of onion oil in your hands.
Use gentle circular motions to massage the oil into your scalp. To get the greatest benefits, keep the oil overnight. It is recommended to wait at least two hours before shampooing if it is necessary. Use water to rinse the oil. For additional washing, use any gentle shampoo and conditioner.
Onion oil for hair fall management can also be blended with other carrier oils, including castor oil or almond oil, for added advantages. The Onion Hair Fall Control Oil from Indus Valley is a potent blend of 8 important herbs for hair care that are grown organically and prepared hygienically to provide you the best results possible. Also, it is a totally chemical-free onion oil that has no hexanes, fertiliser, or pesticide residues. With just a few applications and consistent use, it quickly increases hair regrowth and shields your hair from harm, according to user evaluations.
We also enjoy hearing from our readers, so we encourage you to share your own insights and advice with us so that everyone may benefit. Simply leave your thoughts below, and our assigned health expert will contact you to continue the conversation.