8 Natural Ingredients That Assist in Giving You a Fairer, Glowing Skin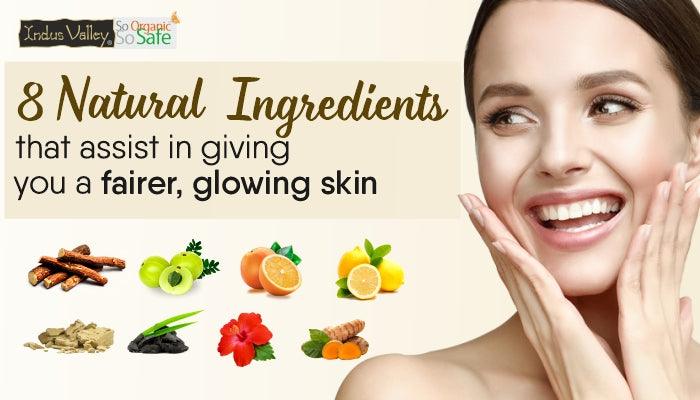 What would you do if you wanted to start looking better than before? You will start working on your skin, hair and facial features, in that exact order, isn't it? Or maybe the other way round, depending upon what you think is more easily achievable for you. That being said, our skin is the first thing that people usually see. And the first opinions are formed depending upon how our skin makes us look to the world. People with a bright, glowing skin skin always find it easier to strike a conversation with a stranger. Then comes our facial features and finally our hair.
In this article, we will disclose those 8 amazing ingredients gifted to us by Mother Nature that can make your skin glow, become better toned and also a few shades lighter, turning it visibly fairer:
1. Mulethi, or licorice powder
Mulethi, also called licorice, yashtimadhu and Glycyrrhizin glabra, comes loaded with the antioxidant glabridin and the antibacterial flavonoid liquiritin. Together, these two ingredients when applied onto the skin, powerfully work together to reduce suntan, dark spots, blemishes, acne and balance excess and uneven skin pigmentation.
2. Amla powder
Amla, also called Indian gooseberry, amalaki and Phyllanthus emblica, comes power-packed with vitamins C and E. Amla fruits have 50 times more vitamin C and vitamin E than other berries like blueberry or blackberry. The two vitamins are powerful antioxidants which, when applied onto the skin, help in regulating collagen production and reducing oxidative stress, making your skin younger and glowing. Its regular application can reduce excess skin pigmentation, suntan, improve skin complexion, reduce wrinkles and fine lines, shrink large open pores and maintain skin elasticity.
3. Orange peel powder
Did you know that the peel of the orange fruit contains more fiber and vitamin C than the orange fruit itself? And vitamin C is a powerful antioxidant that comprehensively counters skin ageing and uneven pigmentation. You can also consume orange peel by cooking it in marmalades or other dishes. The compound limonene present in it allows its antioxidants and antibacterials to penetrate deep into the skin, thereby assisting in turning around the skin condition.
4. Lemon peel powder
The peel of lemon, nimbu or Citrus limonum, comes loaded with vitamins C and A, powerful antioxidants and antibacterial properties just like that of the orange. So its regular application onto the skin can bring about a brighter, glowing skin. It also goes far in countering acne, pulling out blackheads, shrinking large open pores, reducing suntan, excess and uneven pigmentation and increasing the elasticity of the skin.
5. Multani mitti
Multani mitti, also called Fuller's Earth, calcium bentonite clay and Indian healing clay, is an ancient remedy for drawing out excess oil, dirt, grime and impurities from the skin. It is particularly suitable for oily skin. For using it on dry or combination skin, you must mould it with hydrating ingredients like rose water, honey or curd. Multani mitti has powerful astringent, exfoliating and antibacterial properties that deep cleanse, detox and tighten up the skin. It also helps in pulling out black spots, reducing suntan and excess pigmentation turning the skin younger, fairer, tighter and glowing.
6. Activated wood charcoal powder
Activated wood charcoal is obtained by heating coconut shells in extremely high temperatures. This punches in multiple holes in the molecules of the charcoal increasing its surface area, thereby activating it. So much so that a spoonful of activated wood charcoal powder has the surface area equivalent to a football field. Activated wood charcoal is a very powerful absorbent, exfoliator and cleanser. Use it as a face pack to get a clear, glowing and a fairer skin.
7. Hibiscus flower powder
Hibiscus flower, also called rose mallow and Hibiscus rosa-sinensis, is another gift of nature that comes loaded with vitamin C. Its regular application can help in sloughing away dead skin cells, oils and grime trapped inside skin pores. It also lightens suntan, dark spots, suntan, wrinkles, fine lines and tightens sagging skin.
8. Turmeric powder
Turmeric powder is made by crushing the dried roots of the Curcuma zedoaria This plant belongs to the ginger family. It comes packed with detoxifying and exfoliating properties. It deep cleans the skin while the antioxidant present in it, curcumin, lightens up the skin tone turning it a couple of shades fairer and more glowing. You can use it to make your own DIY face packs at home to become visibly fairer and glowing.
A time-tested face pack for glowing detoxified skin:
You can find many DIY face pack formulas in the internet each one claiming to be the next best alternative for getting a glowing bright skin. You can use all or any since they are all made out of harmless natural ingredients.
User reviews, however, indicate that one solution particularly stands out amongst all its competitors as a truly time-tested skin fairness solution. Know more about this brilliant face pack by clicking here.
Know more about another interesting face pack for brightening up your complexion by clicking here.
For more on other skin fairness formulations please get in touch with our beauty experts by commenting below. Till then, stay natural, stay beautiful!