Henna cannot get better than this. Try it! Believe it!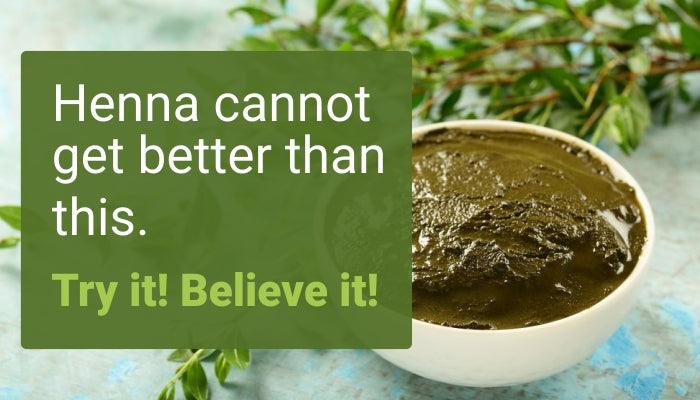 Rediscover the ancient beauty herb henna!
And get lustrous, shiny and healthy tresses, naturally.
Everyone aspires for lustrous, voluminous, glossy and healthy hair. Beautiful hair is one's 'natural asset'. It's not only a sign of attraction but also the mirror of a healthy skin.
Chemical-loaded hair dyes or hair care products can make your hair dry, brittle and prone to breakage. They harm our hair and have side effects like hair loss, skin irritation, blood toxicity and allergies. Stress, improper lifestyle and pollution also contribute to hair damage.
It is high time we go back to the natural traditional ways of caring for our hair and skin. It is time to introspect and rediscover ancient solutions for our beauty-care problems. It is also time to know and reap the benefits of herbal beauty ingredients like herbal henna powder. Henna powder, the age-old beauty secret, is making a come back and for all the good reasons. This significant plant-based ingredient is being introduced once again in the form of hair powders, packs and hair dyes to nourish your hair and scalp.
What is henna?
Henna is a natural dye that is obtained by crushing the leaves of henna (Lowsonia inermis) plant. The Pharaohs of Egypt are recorded in history to have been using it to colour their hair and for marking tattooes on their bodies. 9,000 years ago, Cleopatra, the legendary Egyptian queen, was using henna to decorate her body and enhance her beauty.
Organic henna powder is made by crushing the leaves of the henna plant. Henna is also known by various names like Hinah in Hebrew, and Mehendi in Hindi-Urdu. Since ancient times, henna has been used for dyeing hair naturally, for hair care and beautification. Women from different parts of the world reaped the benefits of this wonder ingredient by applying it to their hair. In addition to dyeing hair, it also nourishes, conditions and makes hair stronger.
Is henna powder good for hair?
Hair dyes available in the market come loaded with artificial chemical compounds like ammonia and hydrogen peroxide that can damage hair. Being a plant-based ingredient, organic herbal henna powder is a safe hair dye and a natural alternative to chemical options. Herbal henna powder is a healthy product that naturally colours hair without causing any damages. This herbal hair dye powder is available online and is not very heavy on the pocket either, making herbal henna powder beneficial for you both physically and economically.
What are the benefits of Bio-Organic Herbal Henna Powder for hair?
1. Maintains scalp health:
Henna combats scalp problems like itchiness, dryness, dandruff, etc. It cools down the scalp. It also helps in cleaning dirt and grime from the scalp. Herbal henna powder, being super-charged with 8 other haircare herbs, comes high in antifungal and antimicrobial properties that effectively cure dandruff and address hair fall issues too like scalp flakes, itchiness, hair damage, etc.
2. Promotes hair growth:
Herbal henna powder nourishes hair and boosts hair growth. Organic herbal henna powder helps in growing your hair faster. It also improves hair texture.
3. Conditions hair:
Henna is an excellent deep conditioner that makes hair feel beautiful. It conditions hair and supplies the required nourishment to the scalp. It protects hair by covering each hair strand with a defensive layer. Bio-Organic Herbal Henna Powder locks in moisture in the hair strands making them dense and strong.
4. Makes hair healthy, shiny and thick:
Vitamin E in henna helps to soften hair. Herbal henna powder, comes enriched with proteins and antioxidants that support hair health. Organic henna powder for hair helps in growing hair faster. It also improves hair texture and makes hair shiny and voluminous.
How do you mix different colors with henna?
Henna powder generally colors hair with an orange/reddish shade. Henna can stain hair with a range of shades between copper and dark auburn, depending upon the duration it is applied on hair. You can easily get many more colour tones by mixing organic henna powder with other organic ingredients like indigo, fenugreek, coffee, manjistha roots and chamomile flower.
Which henna powder is best for hair?
Indus Valley Bio-Organic Herbal Henna Powder is a super-enriched blend of 9 super-exotic haircare herbs added with henna. These other herbs are—amla, shikakai, tulsi, brahmi, fenugreek, colourless henna, reetha and bhringraj. In other words, organic henna powder cannot get better than this. This organic henna powder doesn't contain any chemicals such as ammonia, hydrogen peroxide, PPD, parabens, resorcinols, etc. It is a purely herbal blend made up of only plant materials. The herbs are certified as organic by the internationally reputed USDA Organic and ECOCERT.
Bio-Organic Herbal Henna Powder renders natural shade to hair while making them healthy and voluminous at the same time. It leaves the hair smelling fresh after every application because it contains fresh herbs. The 8 haircare herbs added with the natural stain help nurture hair from root to tip, smoothening up its texture as well.
More love for Indus Valley Bio-Organic Herbal Henna Powder
Great Quality!
I just want to color my hair. And I have not found the best and organic color for my hair. Then my friend suggests to me about this, because she has also tried this. She is very happy to buy this product. And after the results really it is an amazing color for me.
—Review by registered user Neha (Posted on 9/25/20)
Genuine Heena!
Great way to get highlights naturally. Gives lovely reddish-orange undertones to brown hair. No allergies or itching. A small amount is enough.
—Review by registered user Kriti (Posted on 4/13/20)
The final takeaway
Indus Valley Bio-Organic Herbal Henna Powder is worth a shot as it is a truly enriched herbal hair colour. You can still talk to our haircare experts in case you have more queries about it. Till then, stay beautiful naturally!