A Complete Guide To Hair Ultima Spa And Its Benefits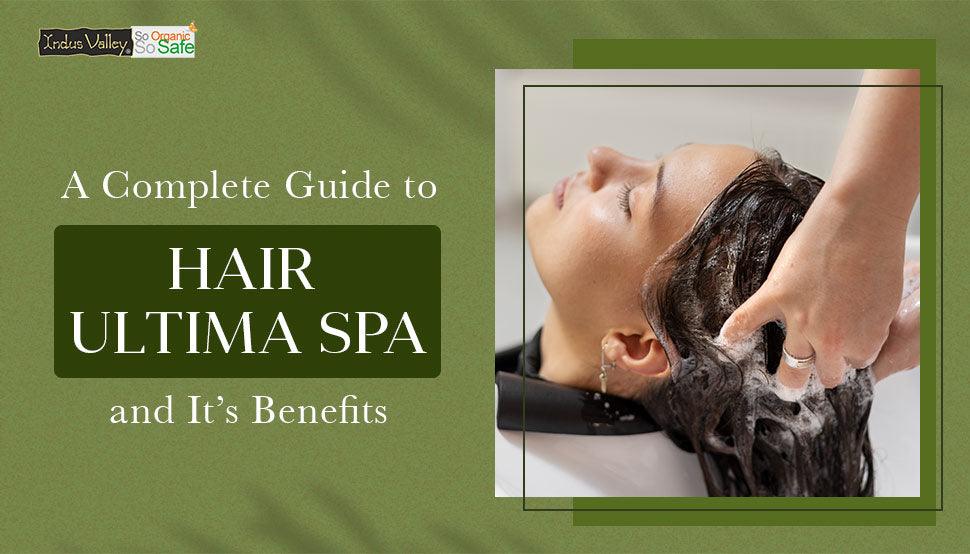 We need some extra care for hair due to our imbalanced diet and unhealthy lifestyle. When hair doesn't get enough nutrients they start to become dull & dry, and with time your hair loses its moisture and shine, making them look lifeless. That is why our hair needs extra care, and what can be better than a hair spa treatment sitting right at home. Yes, you read it right.You can give yourself a professional hair spa treatment if you work with anybest hair spa cream. And with "best", we mean the ingredients that would make up your best hair spa cream for hairfall.
Did you know about the 12 essential hair care herbs that are most talked about in fashion circles today? You must always look out for these herbs as ingredients in your best hair spa cream.
1. Basil: Being a great source of minerals and vitamins, Basil Oil is used as an effective remedy from dandruff and hair fall. Its antioxidant formula promotes hair growth, and its antifungal properties soothe scalp itchiness.
2. Henna: Well-known for its haircare properties from ancient times, Henna is not only used for its colour, but to also moisturize, condition and repair dry and damaged hair. It promotes hair growth, and its cooling properties soothe the scalp by eliminating dandruff and itchiness.
3. Wheatgerm: Rich in Linoleic Acid, Wheatgerm Oil acts as a natural hair nourisher. Enriched with the goodness of Vitamin-E, it promotes hair growth.
4. Rosemary: It is known for nourishing the hair follicles to prevent premature greying. Although Rosemary Oil doesn't promote hair growth, it is useful for healing baldness and thinning of hair.
5. Almond: The pure, organic and chemical-free extracts from almonds are enriched with Vitamin B and E, proteins, fibre and omega fatty acids. These help in curing most of the common hair related issues such as dandruff, eczema, split ends and hair loss.
6. Lavender: A natural hair care herb that strengthens the weak and damaged hair by stimulating blood circulation and natural oil production on the scalp, its antimicrobial properties reduce dandruff and itchiness, and promote hair growth.
7. Coconut: Assists proactively in controlling sebum production in hair roots. Enriched with essential fatty acids and vitamins, it nourishes the dry scalp to improve hair texture while reducing hair fall.
8. Neem: Known for its medicinal and anti-bacterial properties, Neem is a useful haircare herb that prevents hair loss and dandruff. By strengthening the hair follicles, it improves hair texture, adds girth to the strands and promotes hair growth.
9. Methi Seed: Enriched with proteins and essential fatty acids, Methi Seeds help in retaining the lost moisture, preventing hair fall and dandruff.
10. Aloe Vera: Helps in maintaining the pH balance of the scalp and unclogs pores to boost hair growth by conditioning them.
11. Hibiscus: Packed with antioxidants and vitamins, Hibiscus improves the overall health of scalp and hair promoting hair growth and prevents dandruff.
12. Peppermint: Known for improving blood circulation in the scalp it promotes hair growth. Its cooling properties also soothe scalp itchiness.
Top 5 Hair Spa Treatment Benefits
Some people are not aware of how beneficial organic hair ultima spa can be for their hair and they even assume that hair spa treatments are really expensive. This is simply not true since there are different types of hair spa products for different hair types. They also come according to your budget. You can go for a simple application at home regularly after washing your hair and choose an advanced or professional treatment for any special occasions or if you are dealing with heavy hair issues. So here are some benefits of organic hair spa treatments at home:
1. Conditions Your Hair:
One of the major benefits of hair spa treatments is that it deeply conditions your hair from hair follicles. The main purposes ofproducts that are used for hair spa treatment at home are meant to add hydration to hair so that it becomes shiny and smooth.
2. Normalizes Oil Secretion :
If you have dry or oily scalp, regular hair spa treatments can help in normalizing oil secretion in your scalp. If you have an extremely oily scalp, this spa will help to remove excess oil from your scalp, whereas, if you have an extremely dry scalp, it will nourish and promote oil secretion in your scalp.
3. Improves Blood Circulation :
Massaging the scalp promotes blood circulation leading to hair growth. Regular hair spa treatments can help immensely in growing new hair faster. This is the Best Ultima Spa for Hair Growth.
4. Repairs Damaged Hair :
Your hair may get extremely damaged because of frequent application of chemicals such as colouring, bleaching, usage of hot styling tools, pollution, etc. Indus Valley Hair Ultima Spa has earned a reputation in repairing damages causedto hair from regular application of chemical based products. It makes such damaged hair soft, healthy and lustrous.
5. Relaxes the Mind :
Hair spa treatments can help you relax your head muscles and keep stress at bay. Different techniques are generally used in hair spa treatments to massage the scalp that help in reducing tension in your neck and shoulders and also help you feel calm.
How to Do Hair Spa Treatments at Home?
1. Rinse off your hair thoroughly with a mild organic shampoo.
2. Dry your hair a little with a towel and apply some Indus Valley Hair Ultima Spa evenly on your scalp and on your slightly wet hair.
3. Let it settle for 5-10 minutes and then wash with water.
4. Use twice a week for best results.
User reviews suggest that
Indus Valley
Hair Ultima Spa
is one such product that is enriched with all the above herbs for that ultimate hair care experience. Included by many in their list of best hair spa creams,its natural ingredients and soothing aroma bestow a superior
hair spa treatment,
at home, without any hassles.