Are you suffering from hair colour allergies? Get a solution with this 100% botanical hair colour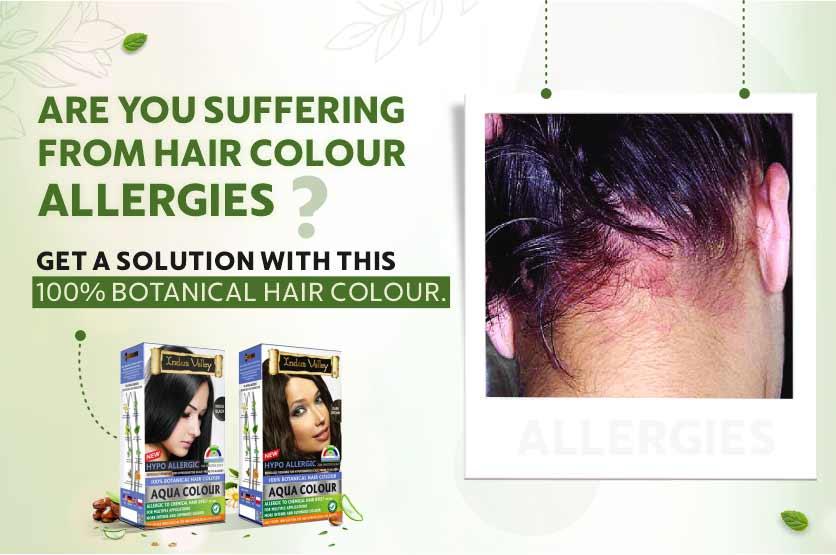 Always a crucial component and one of beauty's distinguishing traits is hair. Hair is crucial, whether it's to exude a youthful, dynamic attitude or an air of refined experience. In order to stylize this significant aspect of attractiveness, hair colour is important. Whether the hair is neatly pulled back or has long, lovely curls, the color enhances look depending on age, situation, and personality. But because of the multiple chemicals included, these colours come with some risks including rough hair, split ends, hair fall, etc. Indus Valley Aqua Hair Color is your practical answer to stay clear of issues like this.
The 5 amazing traits of Indus Valley Aqua Hair Colour:
Safe for hypersensitive skin

This hair colour was created especially for skin that is extremely sensitive and allergic-prone. This is the greatest remedy for those who have had allergies and discomforts as a result of hair colouring.

PPD-free

Paraphenylenediamine, sometimes known as PPD, is a chemical that is commonly used in generic hair dyes. It is a colourless material that, when combined with bleach in chemical hair dyes, chemically alters hair colour. PPD in its intermediate, partially oxidised state can lead to life-threatening allergic responses. Due to Indus Valley Aqua Hair Color's full absence of PPD, allergies are not a problem.

Maintains skin-pH balance

The pH balance of human skin is still approximately 5.5, while commercial chemical-based hair dyes have a high alkaline range of 9 to 11. Because Indus Valley Aqua Hair Color is exclusively composed of plant-based ingredients and has a pH range of 5 to 7, it is the most skin-friendly hair color on the market.

Say goodbye to harmful chemicals

Your search is over if you dislike using chemicals on your skin and have given up looking for effective alternatives to chemical hair coloring. There are no peroxides, heavy metals, ammonia, PEGs, parabens, resorcinols, or other added chemicals in Indus Valley Aqua Hair Color.


Treats hair damage
Indus Valley Aqua Hair Color is made up of eight vivifying bio-organic botanical plants. 
Indigo: Provides hair growth, stops dandruff and early graying of the hair, leaving you with timeless rich tones.
Henna: A natural colouring herb that restores the acid-alkaline balance of the scalp to mend damaged hair and restore lost hair health. It also increases texture and shine.
Manjistha: A hair colouring ingredient that also controls grey hair, improves lustre, eliminates dryness, and stops hair fall.
Chamomile: Revitalises lifeless hair, calms irritable scalp by eliminating flakes of dandruff, promotes hair development, and enhances the gloss and colour of hair.
Senna Leaf: Shine, strength, thickening, and preventing hair loss are all benefits of conditioning the hair and scalp. Additionally, it lessens the damaging effects of earlier chemical damage.
Amla: Amla, a potent antioxidant and rich source of nutrients, promotes healthy hair and scalp, heals dandruff and dry hair, guards against infections, lessens hair loss and early greying, and ultimately enhances the appearance of hair as a whole.
Brahmi: Enhances the scalp's blood vessels and transports the nutrients and oxygen required to encourage hair growth and halt hair loss. The alkaloids found in brahmi interact with the proteins in the hair shaft to create thicker, more resilient hair.
Fenugreek: Fenugreek is a high source of protein and iron, two necessary elements. It also includes flavonoids and saponins, which have anti-inflammatory and antifungal properties.
However, the Hypo Allergenic Aqua Hair dye  results take time to develop due to its all-natural ingredients. It might require a second treatment to increase the color tone if you had any coloring or bleaching done to your hair. Up to 4 to 8 washes might prolong the duration of the hair color's strength. This all-natural botanical hair color offers complete defense against smog, filth, and UV radiation because it is loaded with vital minerals and nutrients. With 100% gray coverage, it helps maintain the natural structure and sheen of your hair. There are no animal extracts or parts in this Indus Valley Hair Color, and it has not been subjected to animal testing. A color with no damage and totally safe to use.
The latter four offer treatment and coloring, whilst the first four serve as major coloring agents. If you would like to contribute your own views to this debate, please contact us using the comments section below.