Premature Greying? 100% Organic Hair Colour is the Answer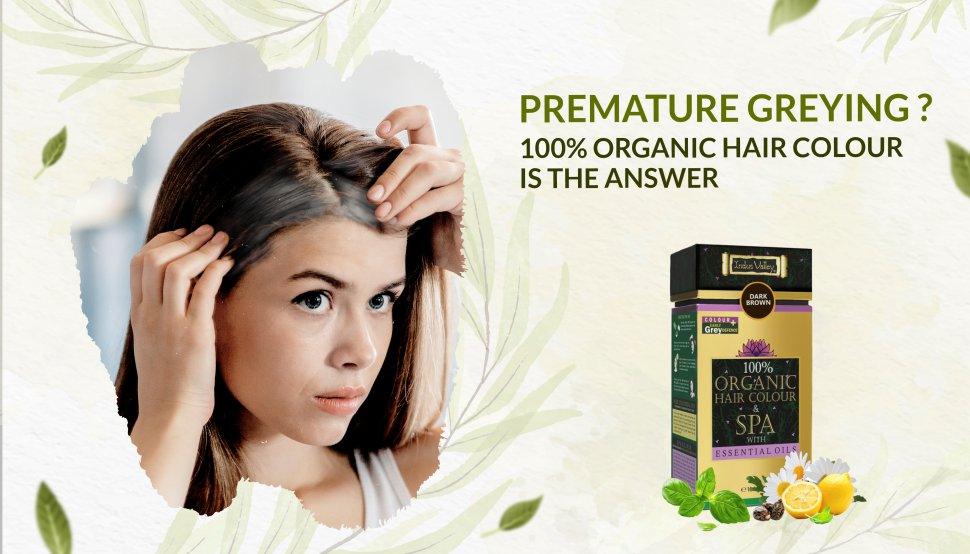 Do you have premature or early grey hair as a teen? Do you want to enhance your colour with the newest popular trendy colours but are worried about damaging your hair colour? You must watch the most recent episode of "Indus Valley Presents Beautiful Naturally with Saumya Tandon" to learn how an organic hair colour can be a life-saving answer for you if you're wondering how to colour your hair naturally without hurting it.
We all gain knowledge about what we should and shouldn't do in our lives from real-life instances and tales. Similarly, the well-known and stunning celebrity Rashami Desai discusses her natural hair colour in this episode and explains why she only uses organic hair colouring to alter her appearance. Listen to her own words as she reveals her best-kept haircare trick for maintaining gorgeous, damage-free hair. The question arises why organic hair dyes take a lot of time to colour hair, all the answers are mentioned in the episode where all the queries related to hair colouring are mentioned and resolved.
According to current trends, chemical-based hair dye is quickly becoming despised by all, driving consumers to seek for the best organic hair dye they can. But how do you choose a colour that won't harm your hair? There is no longer a need for concern. Dr. Harinder Arya, Director of the Institute of Natural and Modern Cosmetech in India, the show's authority on hair colour, provides a comprehensive response to this question. Her extensive knowledge of natural hair colour and the early greying that presently affects the majority of teens is a bonus for the presentation.
How to Deal with Premature Greying?
Premature greying is something that most youngsters have to deal with while growing up. In spite of all our efforts to try and spot the real reasons behind it, we always fail to fully comprehend and address the issue. Do early greys happen because of the stress we live in, or because of the chemical hair products that we end up regularly using, or both? Dr. Harinder Arya answers all these questions in this episode to help you understand how chemical hair dyes can be harmful to our hair and why organic hair colour is the ideal solution we should always go for. It is totally safe to use, with no chemicals inside.
However, can an organic hair colour provide you hair that is completely natural, silky, and smooth, much like the gorgeous hair colorations supplied by chemical-based hair colours? Can an organic hair colour nourish and heal chemically damaged hair? Find out what this brand-new 100% organic hair colour and spa with essential oils can do for you, particularly if you are experiencing early greys.
What Makes Indus Valley Different From Other Organic Brands?
Indus Valley 100% Organic Hair Colour & Spa with Essential Oils is a 100% natural hair colour with no added harsh chemicals, fertilisers, or pesticides, and is certified by reputable international organisations like ECOCERT and USDA Organic. All hair types can benefit from its opulent spa experience and seductive fragrant oils. Additionally, organic hair dye is suitable for women who are pregnant and nursing. In actuality, it is the only hair colour that you may use during your pregnancy without worrying about negative effects or hair damage.
Pro Tip: If you have sensitive skin or are allergic to any herb, you must take a patch test before applying it on your hair. Although the colour is totally safe to use , in case of hypersensitive skin, you need to be extra cautious.