Benefits of Amla Powder for Hair, Skin and Body—Why Should You Add it to Your Daily Beauty Regimen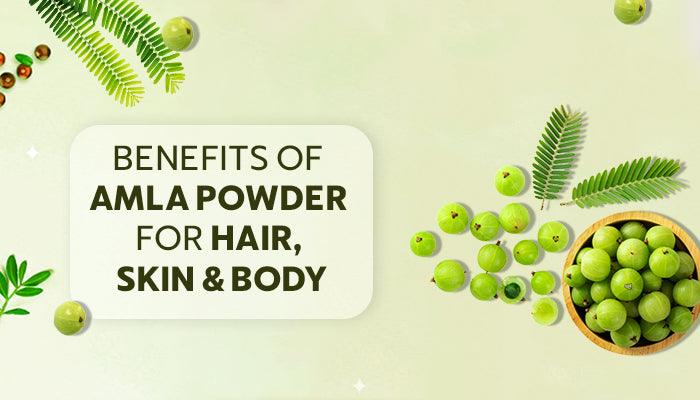 The legendary amalaki, or amla, is one fruit that finds mentions in many, many ancient Indian texts. Even in the one written for describing King Ashoka's lifetime and achievements. Such is the legacy of this fruit that the great king had once gifted amla trees to the disciples of Gautama Buddha. 
In Ayurveda, amla is considered as "divyaushadhi" or heavenly medicine, since its daily consumption can keep the entire mind-body system in pristine balance. It is also regarded as "mother" for its superb all-round healing action. 
Chemical composition of amla
Amla, also called Indian Gooseberry in the English speaking world, has been given the status of superfood as it contains 8 times more vitamin C than an orange, 2 times more antioxidants than an acai berry (another superfood from the Americas) and 17 times more than that of a pomegranate.
Around 100 g of amla fruit can be broken down into;
Energy

44 kilo calories

Fiber

4.3 g

Protein

0.80 g

Fat

0.50 g

Carbohydrate

10 g

Magnesium

10 mg

Calcium

25 mg

Iron

0.31 mg

Potassium

198 mg

Zinc

0.12 mg

Carotene

9 microgram

Thiamine

0.03 mg

Riboflavin

0.01 mg

Nicene

0.2 mg

Vitamins

600 mg
What is amla good for?
Amla is good for the hair, skin, body and mind. Let's understand this in greater detail. 
Amla benefits for hair:
Darkens hair colour:

The antioxidants in amla help in darkening up the hair colour by boosting microcirculation in the epidermal cells of the scalp. This helps with collagen building, which, in turn, boosts melanin (the natural colour of hair) production, thereby darkening up the natural colour of hair.

Conditions and adds shine to hair:

Applying amla powder hair masks topically over scalp and hair helps condition and hydrate the scalp and hair, which directly assists in bringing about natural hair shine.

Assists with hair growth:

The antioxidants, vitamins C and A present in abundance in amla actively help with new hair growth. All three are particularly beneficial for both skin and hair.

Darkens up the colours of natural dyes:

When added with henna, amla helps darken up its colour. It works in the same way for other herbal hair colours like manjistha, chamomile or coffee.

Anti-dandruff:

The antibacterial and antifungal properties of amla powder helps keep dandruff, scalp flakes and itchiness at bay. 
Pro Tip: Once you make a hair mask with amla powder, cover your entire scalp and hair with it. Keep it for 45 minutes, then rinse it off thoroughly with normal water.  
Amla benefits for the skin:
Keeps the skin young and glowing:

Enriched with blood purifying properties, amla helps in keeping the skin young and glowing if you consume it. When applied topically, its antioxidants, vitamins A & C help in keeping the skin soft and supple. 

Reduces fine lines and wrinkles:

Its high antioxidant and astringent properties help in reducing wrinkles and fine lines, while tightening up the skin.

Anti-acne:

The antibacterial, antioxidant and astringent properties of amla, together work on acne and pimples drying them up faster. 
Pro Tip: Once you make a face pack with amla powder, apply it to your face and keep it for 20 minutes, then rinse off with normal water. 
Amla benefits for the body:
Alleviates hypertension:

Amla is a super-rich source of antioxidants and also has a considerable amount of potassium.  Drinking amla juice or amla powder mixed with water daily can help in balancing out high blood pressure in two ways—its antioxidants nullify the free-radicals produced due to excessive stress, while its potassium content dilates the veins, thereby further reducing blood pressure. 

Helps control blood sugar level:

The main reason for high blood sugar is stress. Amla, being the richest natural source of vitamin C, reverses free-radical generation and oxidative stress. Its fibre content helps absorb excess sugar in the body, thereby having a two-pronged nullifying effect on diabetes.  

Regulates digestion:

The high fibre content of amla powder helps clear up the bowels, thereby regulating digestion, and even curing irritable bowel syndrome.

Helps in losing weight, excellent for curing fatty liver:

Abnormal fat accumulation in the body occurs due to slow metabolism. The high antioxidant content of amla helps in preventing fat formations in the body while flushing out its toxins. It is also extremely beneficial for rectifying fatty liver conditions.

Healthier eyes:

Amla also comes high in vitamin A. Vitamin A directly benefits the eyes by improving eyesight, preventing macular degeneration and keeping diseases like conjunctivitis at bay. 
Amla benefits for the mind:
Helps avoid brain cell damage:

This health effect of amla powder is also due to its very high antioxidant content. Regularly consuming amla may also improve memory.

 
What happens if we eat amla daily?
It's very good to eat amla everyday. Regular intake of such high amounts of antioxidants along with vitamins C and A, potassium and iron can avert many chronic diseases. It will also keep your hair strong and your skin glowing. 
What are the side effects of amla? 
People allergic to vegetables must be careful while consuming amla. 

People suffering from

hypoglycaemia, or decreased sugar level in the blood, must avoid amla as it can further decrease their

blood sugar levels.

Those suffering from skin dryness should consume amla with care as it may further reduce skin moisture.

Avoid amla if you have just undergone surgery, as it might increase internal bleeding.
In conclusion
Indus Valley Bio-Organic Amla Fruit Powder
is a certified organic amla fruit powder that comes without any added chemicals whatsoever. It comes as a 5-star verified herb powder by multiple users online. You may use this 100% pure amla fruit powder, as it also comes as certified edible by FSSAI (Food Safety and Standards Authority of India), for your optimum hair and skin upkeep.
In case you have any further queries do feel free to connect with our beauty and health experts. Just leave your comments below and we will connect back with you.