Why Indus Valley Gel Hair Colour?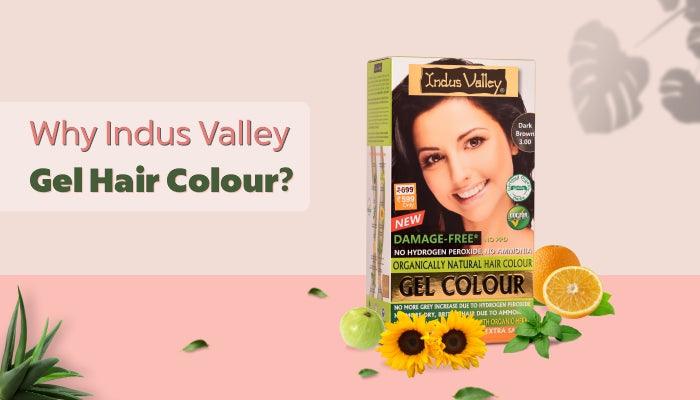 Why Should You Use Indus Valley Gel Hair Colour?
When was the last time you did something for the first time? Try colouring your hair, for a change. It might dramatically change your mood, seeing yourself all young and handsome once again in the mirror.
There are some very solid reasons for people opting for hair colouring these days. An instant beautifying treatment that has become all the more easier due to the plethora of choices available. But, in your hurry to look good, should you overlook the long-term harmful consequences of hair colouring?
Studies have revealed that our scalp is the most absorbent part of our body. Whichever chemical is put on it gets quickly absorbed by its epidermal cells, passing on into the bloodstream, finally going out of the body as urine. But, not all chemicals go out of the body like this. Much of them sit inside the cells itself, causing numerous complications, sometimes even deadly allergies and skin cancers. That's why we must look very carefully at all the ingredients that go to make a hair colour. 
Which Hair Colour is Not Harmful?
To choose a hair colour that is not harmful you must begin by striking out chemicals like ammonia, hydrogen peroxide (bleach), PPD (paraphenylenediamine), parabens, resorcinols and heavy metals like lead and barium from its ingredient list. If your hair colour does not have all these harmful chemicals, then it will not be harmful to you.
Ammonia is an archaic chemical that is almost out of use these days, so every chemical hair dye conveniently advertises itself as "ammonia-free", which is no big deal anymore.
Hydrogen Peroxide (Bleach) is the new villain in town that is fast catching people's eyes. This, as the name itself suggests, is a bleach that neutralises the original colour of hair, and then chemically reacts with the artificial pigment (PPD) to usher in the new colouring effects. Repeated applications of hydrogen peroxide can turn all your hair white, making you even more dependent on the very hair colours that you have been using for hiding your greys.
PPD is one compound that causes deadly allergies. Did you know that a particular segment of hair colours falls outside the purview of the US FDA? Particularly the ones with PPD in them? This was a very clever manipulation back in the days by the chemical hair dye lobby that is still free to do whatever it wants. So, the onus is on us to avoid this extremely harmful chemical used in "coal-tar" (a term used by the USFDA to categorise them) hair dyes. Most of the big banner hair dyes are "coal-tar" hair dyes. 
Parabens are basically preservatives. Repeated exposure to parabens may disrupt hormones, harm the fertility and reproductive organs, causing deadly cancers. 
Resorcinols are antifungals claiming to treat acne, dandruff, psoriasis and even dermatitis. Over exposure to resorcinols may lead to breathing problems, damage the liver and kidneys and may adversely affect the nervous system. 
Lead, in hair colours, may cause anaemia, weakness, kidney and brain damage. Although the coal-tar hair colours still lie outside the purview of the USFDA, this particular chemical has been banned in the non-coal-tar hair dyes entering the US market.
Does Colouring Hair Cause Hair Loss?
Not just hair loss, colouring hair with chemicals can also cause hair whitening. These two visible hair damages also come accompanied with increased dandruff, roughness and dullness of hair.
Is Indus Valley Hair Colour Harsh Chemical-Free?
Yes, absolutely! Indus Valley offers an entire range of organically natural hair colours that come in six vibrant shades—black, dark brown, medium brown, light brown, burgundy and copper mahogany. Being demi-permanent hair colours, their colours last for up to five weeks, imparting vibrant colouration in just 35 minutes, which also makes them highly convenient to use. Innovative mixes of organic plant materials and absolutely harmless organic compounds, they also come without any traces of ammonia, hydrogen peroxide (bleach), PPD, parabens, resorcinols or heavy metals like lead and barium.
Indus Valley New Damage Free Gel Colour suits normal skin types. If you want to benefit from certified organic plant based haircare essential herbs then this is the hair colour you have always been looking for.
Pro Tip: Always do a patch test 48 hours before applying any hair colour. Repeated usage of hair colours sometimes turns even normal skin hypersensitive and prone to allergies. 
Which Black Colour is Best for Hair?
The answer to this question lies on what exactly you want to achieve with your black hair colour. Do you want vibrant colouration with no hair damage? Then you must go for Indus Valley New Damage-Free Gel Colour - Black 1.0. You may also choose from its six shade ensemble previously discussed in this article. 
Indus Valley New Damage-Free Gel Colour - Black 1.0 has no hydrogen peroxide in it, nor does it have any PPD or ammonia. So, it won't penetrate deep inside your hair strands to bleach away your original hair colour. It will only coat your white hair strands with its black colour, preventing any further greying of hair.  
Indus Valley New Damage-Free Gel Colour - Black 1.0 won't load harsh chemicals onto your body keeping your hair glowing and colourful inside out. Its 8 organic haircare herbs, namely—orange, sunflower, basil, henna, wheat germ, jojoba, amla and aloe vera, will help enhance your natural shine, improve your hair texture and also prevent hair and scalp damages usually caused by chemical hair dyes. 
Final Words
For more guidance and information on which hair colours to use and when, do write to us with your comments below. Our beauty and health experts will be more than happy to assist you in solving all your queries, till you become beautiful naturally inside out.