Benefits of switching to Gel Colour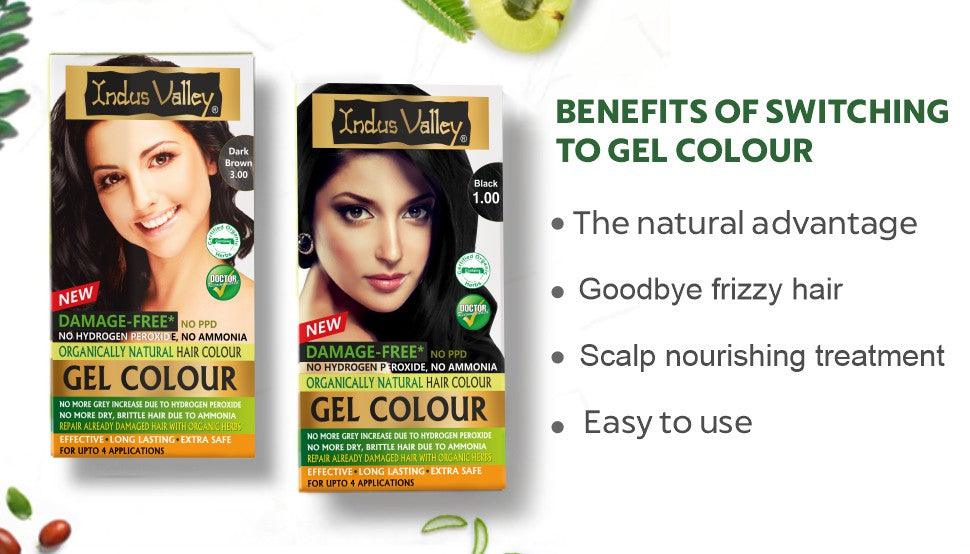 The present generation cannot live without colouring their hair.Most people do it just to look different, however some do it for their vocation. Additionally, it has become difficult to avoid because hair colouring is the only way to restore the lustre and texture lost by excessive contact to the elements of nature. But, not every hair colour is safe. Particularly the chemical-based hair dyes, which result in serious and long-lasting harm to the hair, including irreversible bleaching and hair loss. Therefore, you must choose an ammonia-free organically natural hair colour that is also a bleach-free( No hydrogen peroxide) hair colour to prevent your hair from damage caused by chemical dyes and bleaches. And if your research is solid your damage-free hair colour would also leave your hair looking as stunning as ever.  As a result, your hair would look as beautiful as ever with damage-free hair colour.
What are the top 4 benefits of a damage-free hair colour?
The natural advantage: Chemical-based hair colours contain the most damaging substance, ammonia, which is found in natural hair colours. Ammonia corrodes the scalp and saps its natural oils. If inhaled, ammonia can harm the respiratory system. Bleach, or Hydrogen Peroxide, is another chemical that permanently whitens hair, so it is best to use damage-free hair colour to avoid both.
Goodbye frizzy hair: Frizzy hair eventually becomes harsh and breakable due to a lack of moisture. Moreover, it causes hair loss and thinning. The outer layer of hair is damaged by increased humidity, which is a serious concern during the summer. Split ends result from frizzy hair, which also makes it look dull. An ammonia free hair colour is usually created using natural components that won't dry out your scalp or cause your hair to become unruly and frizzy.
Scalp nourishing treatment: Damage-free hair colours are typically made up of plant based ingredients. So by using them you are only giving your hair and scalp safer nourishment. Organic herbs improve blood circulation in the scalp and reduce hair loss.  Antioxidant properties of organically natural hair colour helps in regrowth of hair naturally. This natural treatment also gives your hair more shine and smoothness, which stays even after the hair colour fades away.
Easy to use: Natural hair colours work just with water so they are the easiest to work with. And what can be better than a pre-formulated herb based hair colour that has all the natural colouring agents premixed for your convenience? No need to mix henna with indigo separately to get that perfect brown. Isn't that convenient? Particularly for those who had been mixing various herbal products to make one pack. A pre-packed ammonia-free hair colour thus works easy while saving your quality time as well.
There are two kinds of damage-free hair colours currently available in the market—powdered and gel based. The gel based hair colours take less time, are non-drippy and also non-messy. They work on both the hair ends as well as on the hair roots.
How to apply a gel based ammonia-free hair colour?
Pre-shampoo and towel dry your hair.
Mix the packed products as mentioned in the Instruction Manual.The amount of colour would depend on the length of your hair.
Divide your hair into sections and apply the mixture using a brush from root to tip.
Let the dye rest for 30-35 minutes. Then rinse with running water.
Lastly apply any herbal colour protective shampoo.
You can also use a conditioner or hair mask after the colour is washed away.
We hope that you will choose your damage-free hair colour after doing sufficient research to make the right decision.
Feel free to add your own insights to this conversation by leaving a comment below.