Did You Know That Chemical Hair Colours Turn Hair White?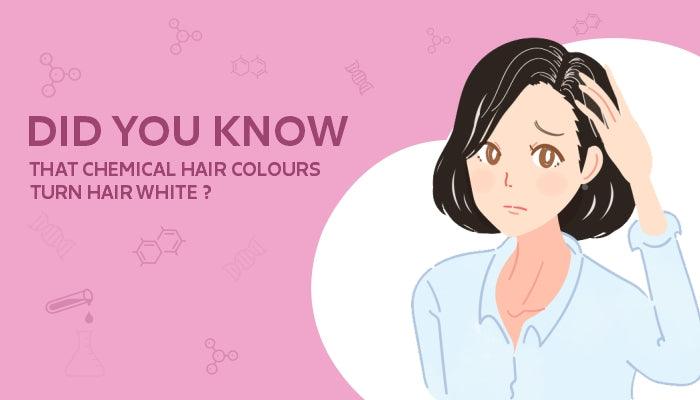 In our quest to find out how chemicals in hair colours damaged hair, we went out on an extended survey. We spoke with beauticians, social media influencers and television stars. To our surprise, none of them could give us a clear answer as to whether chemical hair dyes did turn hair white, or not.
It was after this that we started creating content around this topic to make it easier for people to understand the graveness of this situation, which, we knew, had to be clearly communicated to all concerned. Two such videos are presented here for your better understanding. Know how chemicals in hair colours turn even black hair grey, thereby setting in premature greying;
For better presentation of our discussions with dermatologists, influencers and television divas, we also went about creating an eye-opening talk show. Saumya Tandon, Rashami Desai and Devoleena Bhattacharjee cleared their doubts in discussions with dermatologists and hair colour scientists. Check out how they got eye-opening new insights about how chemicals in hair dyes caused premature greying by clicking on the links below;
Do watch the relevant episodes as well, for a better understanding. And if you find our content helpful and relevant, do subscribe to our channel for future updates by pressing the bell icon.
A snippet into the dark world of chemicals that turn hair white
Just one chemical, in generic hair dyes, turns hair white. And that is Hydrogen Peroxide (Bleach). But Hydrogen Peroxide cannot do this damage alone. It requires active support from two other harmful chemicals, namely Ammonia and Paraphenylenediamine or PPD.
How it happens
The process starts with ammonia opening up the fish-scale like skin of hair strands called the cuticle. This allows Hydrogen Peroxide (Bleach) to enter into the hair shaft, along with the artificial dye PPD. Hydrogen Peroxide then chemically reacts with the natural colour cells present inside the shaft called melanin, turning hair absolutely white. Once this is accomplished, it then chemically reacts with PPD to produce the new artificial hair colour molecules, which turns hair blue, red, green or whatever colour you want.
This process, when repeated over and over again, completely shuts down an enzyme called tyrosinase, which is primarily responsible for the production of melanin, thus gradually increasing greys.
How to avoid premature greying
Putting harsh chemicals on the skin and body is the first thing that you must always avoid. And since artificial chemicals stretch the physicality of the human body to abnormal levels, they end up physically damaging our body too. Premature greying is a direct result of their repeated usage. So, why take the risk and stick with an organically natural hair colour instead? And since it works with natural and organic herb extracts, it will also darken up your original hair colour, while imparting the new colour as just a harmless coating over your hair strands.
Herbal extracts like Aloe Vera, Jojoba Oil, Amla, Tulsi, Orange, Sunflower, Wheat Germ and more, also help repair hair damages, while preserving its natural shine and strength.
How to enhance the life of natural hair colours
Once you are done selecting your best organic hair colour the next thing to do would be to make your hair colour last longer. Below are a few tips and tricks that can save you much time and effort in this direction:
Try avoiding heat treatments like straightening irons, curling rods and hair dryers
Use a good colour protective shampoo to fix and retain the natural hair colour. A good conditioner or a hair mask would help in maintaining your hair shine and gloss
Use filters while showering as it would help in refining the water from harmful chemicals like chlorine, which can make your hair colour fade quicker
In conclusion
To protect your hair from lustre stripping and protein stripping chemicals, it is advised that you use a natural hair colour. Once you zero in on your best organic hair colour, use it diligently to maintain your hair and scalp health, while looking absolutely gorgeous and elegant.