Winter's Here! It's Time To Try Aloe Vera's All-Round Skin Protection.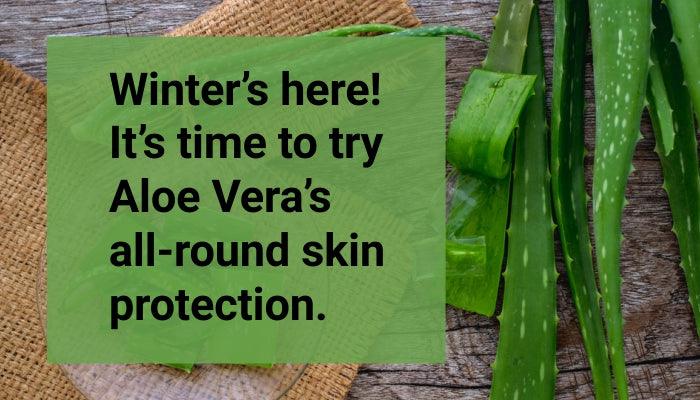 Winter is here; and the time has come to enjoy hot chocolate, warm clothes and snow. But along with all of these also come skin dryness, roughness and dehydration. To confront the winter season, therefore, we generally stock ourselves with creams, moisturizers, face masks, scrubs, face packs and many more, the matter only becoming worse if we have are travelling; a big headache to carry all of these products along. But not if you have the handy, aloe vera gel—an all-rounder that works like a skin moisturizer, keeping it hydrated, providing intense skincare and giving all-round protection to your skin from the harsh winter season.
What is aloe vera?
Aloe vera is a spiky green plant about a foot high. A miracle plant, it comes with magical medicinal properties. Be it a small cut or a burn, aloe vera soothes all. Use it as a daily moisturizing gel or for detoxifying your skin, organic aloe vera gel comes packed with antioxidants and antibacterial properties. It also works as an anti-inflammatory gel soothing redness and irritations.
"My hypersensitive skin is super-reactive to any product or ingredients. One of my students suggested the natural aloe vera to solve my problems. Since then, aloe vera gel has become an essential part of my daily skincare routine. My acnes are reducing; dark spots, blemishes are fading away, my skin is supple and radiant. It feels amazing."
—Vidya Jagdale, Art Teacher
The history of aloe vera
Aloe vera always enjoyed an important place in medicinal history. So much so that even the legendary queen of Egypt, Cleopatra, relied on its incredible healing qualities. It is said that Cleopatra used aloe vera every day for her skincare, beauty care and for general upkeep of her physical health. She would apply the gel from its leaves on her skin, drink a juice made out of it and also use it for soothing minor cuts and burns.
The name aloe is derived from the Arabic word 'alloeh', which means 'shining, bitter substance'. Vera is derived from Latin meaning 'true'. The first recorded mention of aloe vera comes from some Mesopotamian tablets dating back to around 2100 BC. Aloe vera was then named "the elixir of eternal life". It has also been referred to with many other colourful names like lily of the desert, burn plant, wonder plant and more. But, if we look back at this marvel plant's origin, it is most likely that it was discovered in Sudan. It, then, kept travelling throughout history from one civilization to another.
What all do we get from aloe vera leaf?
Aloe vera leaf has two parts, the gel—the clear, odourless jelly-like inner part, and the juice—the yellowish, bitter, a bit-sticky liquid seep from the cut leaf. The gel is mostly used and is the safest part of the leaf, while the juice has laxative qualities, which can be hazardous if consumed in excess. Make sure to use a fully grown leaf, and not a young one, to reap its full benefits.
What are the health benefits of aloe vera?
With 75 active components and well-deserved super-food status 100% organic aloe vera gel comes rich in vitamins like A, C, E, B1, B2, B3, B6 and B12. It also comes packed with minerals such as calcium, sodium, iron, magnesium, potassium and copper. The goodness of these vitamins and minerals helps build a robust immune system and helps maintain blood pressure. Aloe vera also helps regulate blood glucose levels, assists in building the blood cells and protein, protects the blood vessels, supports bone growth, protects against cardiovascular problems, helps with healthy digestion, boosts energy, maintains the nervous system and cleanses up the body toxins.
Its abundant supply of antioxidants and amino acids and the presence of anti-inflammatory, antiseptic, antibacterial and antiviral properties, help in fighting many diseases, support better skin health, withstand free-radical damages that can cause cancer, heart disease and other illnesses.
The minerals and vitamins in natural aloe vera gel facilitate many skin and beauty problems too. Topical use of bio-organic aloe vera gel can help in soothing skin inflammations and acne, reduce redness, help treat skin diseases like psoriasis and help to tone up the skin providing firmness, lightening up excess pigmentation, moisturizing chapped lips and skin, regulating sebum production, maintaining the skin's pH level and supplying hydration to the skin.
Is there any organic aloe vera gel product available online for optimum skincare?
Indus valley is providing a 100% pure and organic aloe vera gel online. Organically grown in the foothills of the Himalayas, this naturally extracted aloe vera gel preserves all the nutritional values of the plant. With no harmful chemicals added such as bisphenol A or hexanes, it is absolutely non-toxic. The gel is also additionally enriched with other natural extracts such as rose water, wheat germ, green tea extract, honey and lemon peel extract, making it a gold standard amongst all aloe veras currently available in the market. Suitable for all skin types, both men and women can use it. A very lightweight and a non-sticky gel, it quickly absorbs into the skin. Being a water-based moisturizer you can also use it during summers. The green colour of the gel comes from the green tea extracts added in it.
So, what are you waiting for? Go and grab your natural aloe vera gel or buy it online from the comfort of your home.
"It is very lightweight, and it penetrates through your skin. It keeps my skin soft and supple. I used it on my face, and it feels cool on my face and eyes. It is rich in Vitamin C and Vitamin E. It feels very light on the skin. I guess my skin feels lively after using it!"
—Waniya Khan. (Satisfied customer of Indus Valley) reviewed on 19th January 2020 on www.amazon.in
In case you have more queries feel free to talk to our health and beauty experts through your comments below and we will be delighted to help you. Till then, stay beautiful... stay natural...!