Unleashing the Trend: Dive into the World of Chemical Free Dark Brown Hair Colour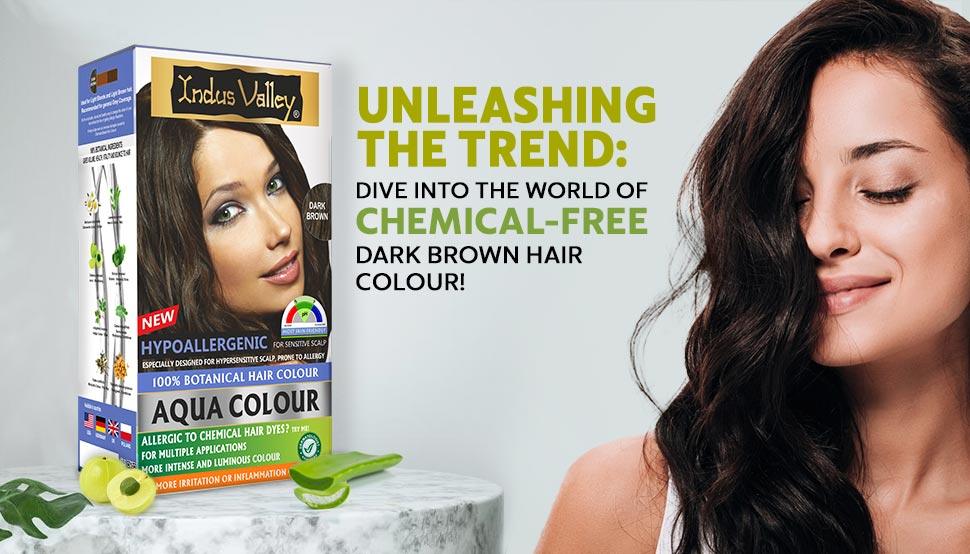 Are you looking for a dark brown hair colour so that you can experiment with modifying the looks of your tresses? We recommend that you check out a few organic hair colour brands if you have not yet decided on your hair colour. A chemical-free hair colour won't affect your hair and scalp health while you go about your hit-and-trial selection process. Choosing a chemical-free, natural and organic hair colour, therefore, might also turn out to be your most significant life-changing decision.
Organically Natural Hair Colour :
An organically natural hair colour is one made primarily from naturally occurring components, or one containing only trivial amounts of chemical substances. Due to their natural processes, such dyes are also considered damage-free because up to 90% of their ingredients do not contain fertilizers or pesticides.
Can a Chemical Free Hair Colour be truly 100% organic?
Yes. 100% organic and totally chemical-free hair colours are a rarity in the market—online or offline. However, one might chance upon a few very rare brands that are selling powdered forms of freshly plucked and organically grown colouring herbs. These brands take the pains of packaging triple-sifted, microfine versions of their powdered herbs for added convenience. However, to add more permanency to the colours imparted by their 100% natural and organic colouring herbs, they often resort to some round-about ways like offering after-colouring hair masks as add-ons.
These hair masks are usually made up of chemicals, but not harmful ones. They do not disturb the pH balance of the skin or hair, while only enhancing the colouring effects of the natural herbs. Such a truly chemical-free hair colour is particularly suitable for those with sensitive skin prone to develop allergies. Indus Valley is one such rare brand that is offering an entire range of hair colouring products for those with sensitive skin.
However, if you do not have hyper-sensitive skin but are only looking for a damage-free 90% organically natural hair colour, then Indus Valley's Gel-Based Colours would gloriously suit your purposes. The gel base adds great convenience in applying the colouring paste as well.
Chemical Free Hair Colour is Safe to Use :
Chemicals like Ammonia and Hydrogen Peroxide are actively found in generic hair colours. Though they make the application of colours far easier, they alter your hair's natural physiology making them dry, rough, brittle and with split ends, ultimately breaking them away from the scalp. After several colouring sessions, even the naturally black hair starts fading, turning into permanent whites. Chemical free hair colour, thus, turns out to be the safest option as it also nourishes the hair and scalp while colouring it.
Is There a Dark Brown Hair Colour That is Truly Chemical Free?
Yes. Indus Valley's Bio-Organic Dark Brown Botanical Hair Colour is a truly chemical free hair colour. It contains organic herbs like Aloe Vera, Basil, Orange, etc. that nourish the hair and scalp and help maintain the natural shine and strength of hair. The different colouring shades are brought about by smart combinations of the three colouring herbs—organic indigo powder (for blue/black colouration), organic henna powder (for red colouration), organic manjistha root powder (for pink colouration) and organic chamomile fruit powder (for golden colouration).
In case you are not a sensitive skin type, you can also go for their gel-based damage-free hair colours which have no ammonia, no hydrogen peroxide and no PPD.
Both the hair colour ranges cover your greys completely without damaging your body, imparting that exotic dark brown hair colour that you always wanted.
Does Organically Natural Hair Colour Last as Long and Vibrant as Conventional Hair Colours?
No. Organically natural hair colours use wheat protein instead of salts (which is generally used in conventional hair colour as a bulking agent). Thus, they do not last as long as generic dyes but are safe, effective and healthy colouring options for hair.