How to Choose The Best Burgundy Hair Dye – A Guide For Online Buyers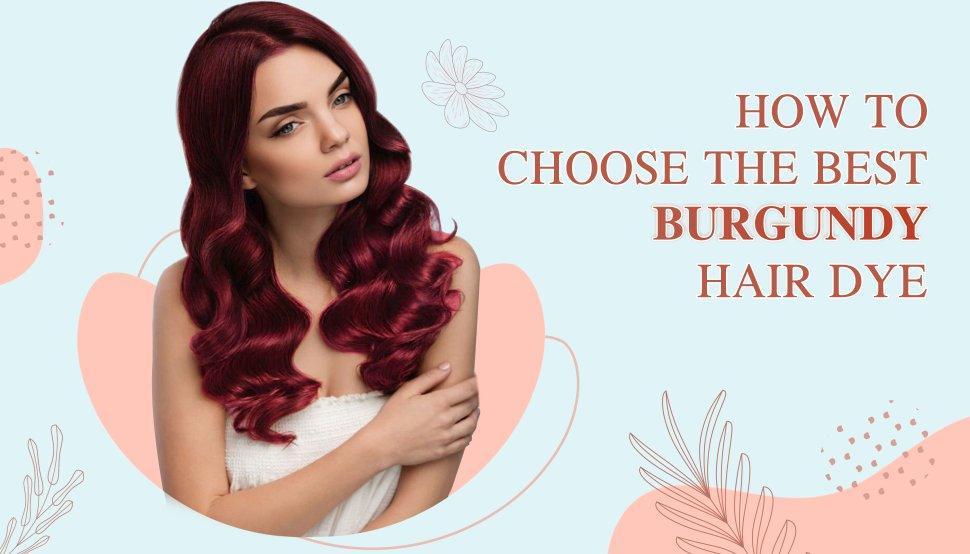 There are sometimes quite a few factors that need to be considered when buying the perfect burgundy hair dye. Choosing the best burgundy hair dye for different occasions is hard to do on the web due to a lack of information. The majority of products that claim to be organic and safe are actually loaded with dangerous chemicals. Discover which dye is right for your hair and scalp by reading this guide.
What could be the benefits?
What are the benefits of choosing the right hair dye, such as preventing split ends, dandruff, and hair loss? Burgundy hair dye formulations based on PHAB-free technology have been developed by certain hair colour product brands. They are organically natural hair Dye brands that prevent your hair from being damaged by ultraviolet rays and nourish your scalp, keeping it free of allergies.
Made with organically natural herbs
Look for a burgundy hair colour made from organic, all-natural botanicals.
Aloe Vera maintains the pH level of your scalp while adding shine to your hair. It is also known that this herb nourishesburgundy hair colour the scalp. Our hair and scalp's chemical health is revealed by pH.
One of the first hair dyes used by humans was henna. Dandruff is prevented, and the cuticles are also repaired and healed. Additionally, henna gives your hair a reddish tint and makes it glossier. It functions as a harm-free hair colour and halts hair loss, breakage, and damage.
What are the key Ingredients in gel-based hair dye?
The burgundy gel-based hair dye from Indus Valley that also includes jojoba oil to keep the scalp germ-free comes to mind in particular. Another benefit of jojoba hair oil is that it promotes hair growth.
In addition to Jojoba, this premium brand of organic hair dye also includes naturally occurring Wheat Germ Oil, which keeps hair elastic, promotes hair development, and hydrates the scalp and hair.
Vitamins, calcium, potassium, and other nutrients found in sunflowers nourish and safeguard your hair. Sunflower extract is also present in sufficient quantities in Indus Valley's outstanding burgundy hair colour. By using this hair colour, you may shield your hair from harmful UV radiation. If you spend a lot of time in the sun at work, you might think about purchasing and using this wonderful organic hair dye to keep your scalp and hair healthy.
The best burgundy hair colour on the market also contains additional organic extracts. Amla is renowned for having significant amounts of vitamin C, which keeps the health of your hair. On your scalp, honey treats psoriasis, infections, and other conditions. It works wonders as an antimicrobial and prevents bacteria from growing on the scalp. People with dry hair can benefit most from the product. Extracts from basil leaves are beneficial for those with fragile hair. They improve the health of your hair overall and strengthen the hair shaft while reducing scalp itching.
Totally Safe to use
Additionally, be sure that your burgundy hair dye is free of PPD, ammonia, and hydrogen peroxide. The burgundy hair dye from Indus Valley is the finest choice if you have a chemical allergy. Both the product's safety for usage and its absence of heavy metals are guaranteed. It is Halal-certified, and the colour lasts in your hair for up to 6 weeks.
Packaging
The burgundy hair dye is sold in a kit that also includes a 120 ml Aloe Honey Gel Tube, 4 packets of 5 grammes of herbal hair colour powder, and a washing conditioner with colour protection (50 ml). Additionally included is one Hair Eaze Spa Mask (2x15 ml). The instruction manual serves as a usage manual. While the applicator brush, a comb, and a pair of gloves assist in maintaining order and cleanliness during the colouring process.
In conclusion, your organic hair colour brand should offer a variety of advantages, be secure, and be simple to apply. Doctors have examined and approved Indus Valley's burgundy hair dye as a damage-free hair colour that is suitable for both men and women. It may be the ideal product for you and works with most hair types.