Things to Keep in Mind While Choosing Hair Colour Based on Indian Skin Tone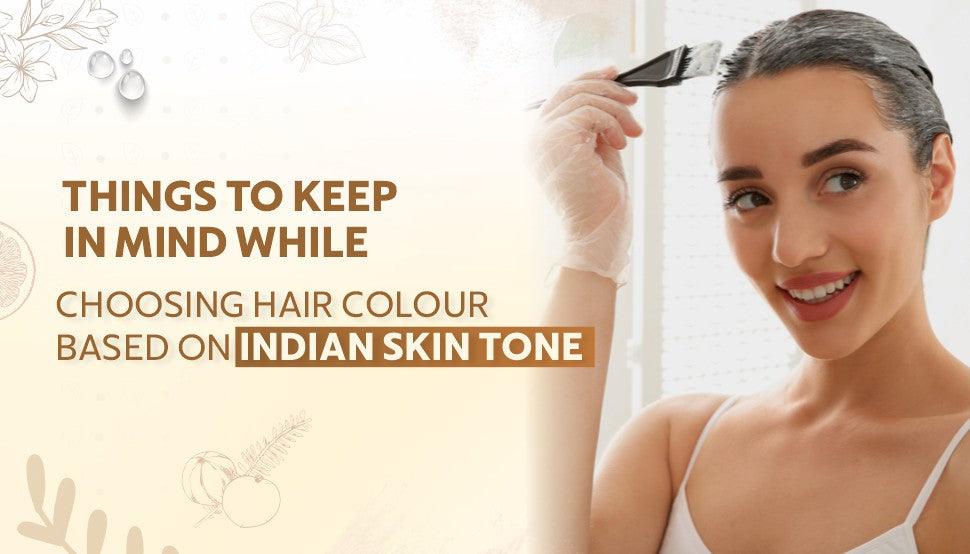 Although hiding our greys may be the main motivation, it is not the only one. Searching for elements that might not harm hair will help you select a natural hair colouring. PPD, ammonia, and other dangerous ingredients won't be present in a damage-free hair colour. In an effort to extend the time that their hair holds the dye colour, such chemicals have a propensity to damage the hair, leaving it weak and badly altering its texture.
What are the natural herbs used in natural hair colour?
Ammonia weakens the hair's resilience by allowing the colour to enter the outermost layer of the hair and into the inner layer. Any natural hair colour won't harm the condition of the hair because they are manufactured with herbs and other beneficial substances that can be found in nature.
Amla, Aloe Vera, Jojoba, Sunflower extract, and honey are a few of the elements contained in an ecologically natural hair colour, along with others. The Indus Valley Natural Hair dye is one item that benefits from these organic plant extracts. Given that it is a natural hair dye, it is one of the few products on the market that can truly be referred to as a damage-free hair colour.
How should you choose your hair colour?
When choosing a new product, organically natural hair colour should be one of your top considerations since it not only gives the hair a long-lasting colour without the stress of harm, but it also offers further advantages that aid in the growth and improve the health of the hair. Ingredients that are naturally occurring are employed in these products for several benefits. The biggest advantage of employing natural components to create a hair colour that is really organic and natural is that everyone who uses these plants for one benefit also receives all of its other benefits.
Additionally, many of us may already have hair damage from frequent chemical and heat treatments like smoothing, rebonding, curling, or previous hair colouring. It is true that your hair will age more quickly the more chemicals you use on it. Therefore, when the frequency of chemical treatments increases, the requirement for using a damage-free hair colour does not diminish but rather intensifies. No matter what your grandmother tells you, using organic henna (mehendi) in these circumstances is not the ideal course of action, especially as it leaves your greys with an orangey tone rather of a black, brown, or other desirable colour that is obviously visible to the human eye.
Which is the best natural hair colour?
One of the greatest natural hair colour now available is Indus Valley's biologically natural hair colours, which come in 6 various tones. Due to the fact that it is a damage-free hair colour, you can indulge in your hair care demands. It contributes to healthy, lustrous hair. The advantageous characteristics of an organic, natural hair colour aid in defending the hair against sand, pollution, and the sun's harmful UV rays. Ingredients like Amla, Aloe Vera, and Jojoba not only prevent the hair from breakage but also strengthen it, rejuvenate the strands' strength, and support the scalp's and hairs overall health.
However, the main advantage of utilising natural hair dye is that the colour it leaves is organic, totally acclimating itself, and giving the colour a natural appearance. Organically natural hair colour or a natural hair dye is the greatest choice for everyone who wants to have natural, shiny, healthy, gray-free hair. Gone are the days when hair colour appeared artificial and unnatural.