Why Should You Colour Your Hair with Harsh Chemical- Free Hair Colour?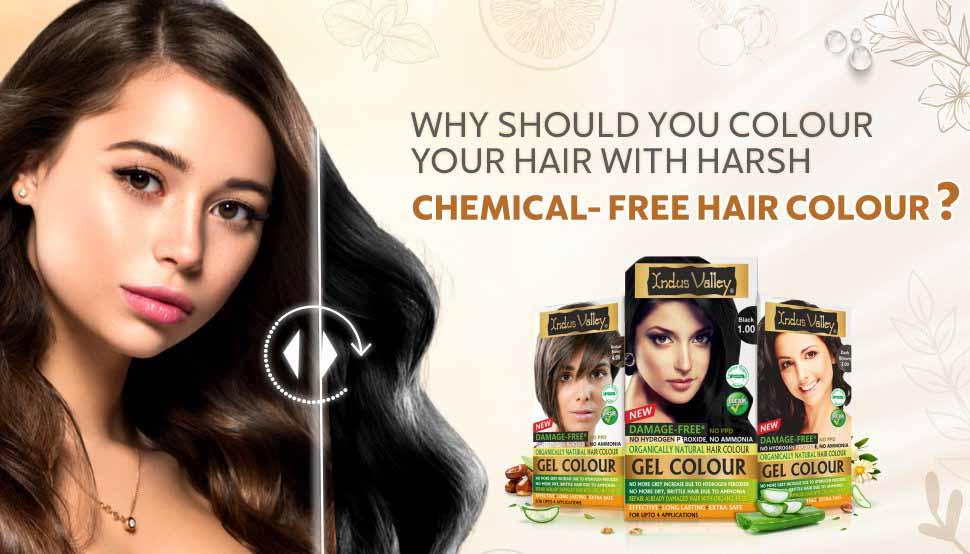 You must have read or heard about the harm that chemical hair dyes do to hair. Do you understand the specifics of hair damage? Please don't worry; we'll explain everything you need to know about hair. The harsh chemicals used in chemically infused hair dyes, such as hydrogen peroxide, ammonia, pesticides, and other residues, cause damage to your hair when you use them. To get out of this strange scenario where you have to colour your hair and put up with hair damage, we have an incredible option for you. We will go over all the advantages, important ingredients, and application instructions for our damage-free gel hair colour in this article. And every justification for choosing this gel hair colour over chemical hair colours.
Damaged hair is usually a side effect of hair colouring. Along with increasing hair loss, your hair may also become frizzy, unmanageable, and brittle. You can now make sure that your colouring experience is free of dangerous chemicals, preventing hair damage, with Damage-Free Indus Valley Gel Color Black. Indus Valley Gel Colour Black's organic, certified ingredients also repair damaged hair by nourishing it from root to tip. It results in smoother hair without causing harm because it is made from natural herbs that are certified organic. Your hair will have a rich, brilliant shine thanks to Indus Valley Gel Color Black, giving you that Cleopatra jet-black look.
Free From Harmful Chemicals:
We now offer the DAMAGE-FREE Indus Valley Gel Natural Black Hair Colour box for colouring your hair. The colour is free of hazardous ingredients like ammonia, PPD, and bleach, according to Indus Valley. Chemical dyes made of ammonia expand the hair cuticles and change the colour of the hair from the inside out. Ammonia, on the other hand, weakens the hair shaft and causes hair loss. Ammonia-free Indus Valley Gel Color Black is hence damage-free.
Hydrogen peroxide bleaches your hair without distinction, whether it be grey or black; as a result, hair colours like these cause even naturally black hair to turn grey. Indus Valley Gel Color Black, on the other hand, creates oxygen, which only accelerates the colouring process. Gel Color cannot, therefore, make your natural Black Hair Gray. When your hair is treated with Indus Valley Gel Colour Black, the lack of bleach ensures that it receives the final shade of black. As a result, Gel Colour Black for hair allows you to maintain the natural ebony of your hair without endangering its health.
Organic Ingredients:
Protein and organically grown herbs or extracts are used in the creation of the Indus Valley Gel Color Black for hair. Your hair will have a natural sheen, health, colour, and vibrancy thanks to the nine herbs and botanicals included in Gel Colour. Your hair strands are penetrated by the organic nutrients in the hair colour, protecting it from damaging substances like UV radiation, pollution, and filth. While the nine herbs combined together make sure that your hair keeps its vitality. Doctors also strongly advise the hair colour.
What's In the Box:
When designing the Indus Valley Gel Color Black box, Indus Valley kept in consideration all of your colouring requirements. As a result, the kit includes everything you need for hair colouring:
Base Honey Gel Tube
This gel tube, which is enriched with nutritious aloe vera, orange, and botanical oils, aids in giving the colouring paste a consistency similar to honey. This gel also conditions your hair, so you may skip using a conditioner or hair treatment after colouring.
Base Natural Hair Colour Sachets
Four sachets of natural hair colour are included in each box of Indus Valley Gel Colour Black. This colour is created using organic henna, coconut oil, organic amla, and basil. The hair colour ensures that the texture of the hair is smooth and vibrant.
Colour Protective Shampooing Conditioner
Your hair is safeguarded against potential harm from heat or filth thanks to the aloe vera and soya-based shampoo and conditioner. This shampoo and conditioner provides long-lasting, root-to-tip protection by penetrating every hair strand. Because it is herb-enriched, you won't need to bother about conditioning it further; it will already give your hair a smooth structure and glossy finish.
Natural Hair Colour Conditioning Spa Masks
These spa masks are enriched with conditioning herbs and give you the much-needed extra conditioning after colouring. These masks restore damaged hair, providing an extremely smooth finish.
How to Apply:
After pre-shampooing, towel-dry your hair. Utilizing the accompanying plastic gloves, combine the hair colour sachets and gel tube in a clean container (amount may vary depending on the length of your hair). For neck length, use one sachet and a quarter of the gel tube; for longer hair, use more (in accordance with the portions indicated on the gel tube).

Using a 2-in-1 applicator brush, apply the honey-based paste. Use a comb to divide each section. Apply the mixture from the roots to the tips of the remaining hair, including the grey hair. You can leave it for 30 to 35 minutes.

Wash your hair while the water is running. Once more, rinse it off with color-safe shampoo (available in the box).

Apply Hair-Eaze Spa Mask to your dry hair and scalp after shampooing for conditioning and smoothing. Towel dry after rinsing with water.
With Indus Valley Gel Colour Black, which can offer you luxuriant, deep-black, and vivid hair, you may effortlessly replace any chemical hair colour. It guarantees chemical-free therapy and improves the health of your hair. It was specifically created for colour users who suffer from damaged hair. The Indus Valley Gel Color Black has a Bio-Natural certification and is hypoallergenic. It has undergone laboratory testing for purity and safety. Doctors all across the world advise using the Indus Valley Gel Colour Black, which is categorically opposed to animal research. Why don't you attempt the all-black, seductive style the Indus Valley way? It only takes a few colouring sessions to achieve the natural, healthy, and brilliant finish. Please let us know about your worthwhile experience. The comment area is also a place for you to express any opinions or ideas.